WWE Royal Rumble 2013 MAMBINO Preview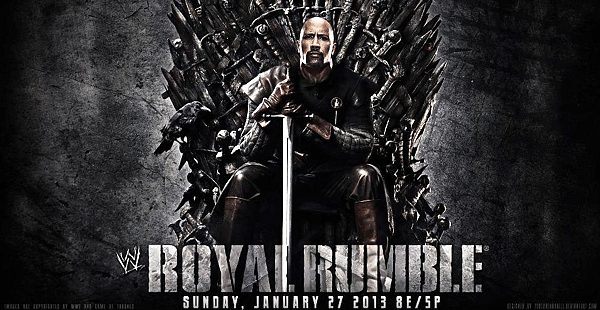 We have officially entered Wrestlemania season, the best time to be a wrestling fan. From late January to early April, Vince McMahon develops a new found sense of urgency. Booking on the fly, feces jokes and blatant misogyny towards woman (otherwise known as a John Cena promo) are thrown out in favor of coherent story lines with a clearly identified goal.
This Sunday, the first step to Mania, the Royal Rumble, emanates live from the US Airways Center in Phoenix, Arizona. The Rumble is unique in the sense that it builds in allotted space for nostalgia. You never know who is going to come through the curtain after the clock counts down–think Mr. Perfect and Goldust in 2002. The Rumble has been used as a platform for superstars returning from injury like John Cena in 2008 and Edge in 2010, but more recently has been used as a catapult for new stars to make their mark, as Alberto del Rio and Sheamus won the last two matches. However, I still hold out hope for a Royal Rumble return from the one and only Peter Edward Rose. Without further delay, let's break this down MAMBINO style.
Youtube Pre-show – United States Championship
Antonio Cesaro (C) vs The Miz
The Raw Librarian: This match has me absolutely terrified. I can handle CM Punk losing the title to the Rock. I can handle John Cena winning the Royal Rumble. However, I do not want to see Antonio Cesaro drop his title to the Miz. In the past few months, Antonio Cesaro has managed to do the impossible: he has returned the United States championship to a state of relevancy. This is the first time since Rob Van Dam held the Hardcore title that a WWE "minor" championship belt has had any meaning, though I will allow arguments for Cody Rhodes' Intercontinental reign. The point is thus; the belt has meaning again because it is routinely defended on Monday Night RAW and PPVs. Gone are the days of the US title being passed around like a passed out girl at a Steubenville football party. The United States championship has regained credibility (although I may have just lost all of mine). I don't want to see the Miz become the new champion because he's being pushed as a new face and needs something to do. I'm not going to dissolve this into a conversation about whether the Miz is a good face (he isn't) or whether he knows how to properly apply the greatest submission maneuver of all-time (he doesn't). My opinion about this match would be the same, no matter the opponent. Cesaro has groomed the title to it's current stature and he deserves the opportunity to continue his current run. And because of this; I'm predicting a Miz victory.
KOBEsh: I'm not nearly as big of a Cesaro fan as my cohort here. He's a specimen of a human, built with muscle upon muscle. The Switzerman has a decent enough move set, though he doesn't always use his immense strength to his advantage. Cesaro is such a menacing looking human…but why is it that he doesn't even inspire any faux-fear out of me? Because the guy has the charisma of a walnut. He's played his pro-America but anti-American gimmick very well, but that's more a function of what he's saying than how he's delivering it. Another wrestler with more conviction, better acting and an ounce of sentiment would be a legitimate world title contender working with what Cesaro's got. However, he's a project to work on, and with the lack of heels on Smackdown, I wouldn't be surprised to see him hotshotted into a mini-feud with Alberto del Rio soon. And thus…a Miz victory. 
Wrestlemania repercussions:
TRL: The winner of this match will not significantly alter the Wrestlemania card. It's possible neither guys will find themselves in a match come April. Miz's push will definitely continue after this match up. You don't just appoint someone the "next Nature Boy" and then abandon that after two weeks. I see both of these guys as contenders to headline the "Once in a Lifetime: Youtube Wrestlemania Preshow!"
WWE Tag Team Championship 
Team Friendship (C) vs The Rhodes Scholars 
TRL:
I think the fact that Daniel Bryan and Kane have each declared themselves as Royal Rumble participants is very telling.
A Rhodes Scholars victory
here accomplishes a few things. It frees up Daniel Bryan for singles competition and creates a new top draw. A move to Smackdown and entering him into the World title fracas would do wonders for his career. The victory would also establish Rhodes and Sandow as a legitimate tag team who could continue to defend their titles against the Usos or the Primos (or any other number of worthless tag-teams). As for Kane, this might be his last Rumble; after all, the guy is in his mid-40's. He currently ranks second all time in career eliminations, so I'd look for him to dump four wrestlers and officially pass Shawn Michaels to become the all-time leader in Rumble eliminations.
KOBEsh: As we previewed in our Wrestlemania Match predictions post several weeks ago, I feel like a Team Friendship/Rhodes Scholars/Sin Cara & Rey Mysterio match is coming down the pipeline for the big PPV. If for no other reason than to stay consistent, I predict a Rhodes Scholars win, but just so that the heels can go into Mani as the champs and lose it to a face team.
Wrestlemania repercussions:
TRL: A Team Friendship victory would imply that this tag team is staying together until Wrestlemania. Consider me a fan of this team: I love their chemistry, I love their work ethic, I love the comedy skits. But selfishly, I want more for Daniel Bryan. If D-Bry and Kane retain their titles, look for them to stay together until April. Although it is possible they could retain and then turn on each other during the Royal Rumble match.
A Rhodes Scholars' victory might be the beginning of the end for Kane and Bryan. However, a win for Rhodes Scholars in my opinion means that they are walking into Wrestlemania as the tag team champions. Future opponents have yet to be determined.
World Heavyweight Championship – Last Man Standing 
Alberto Del Rio (C) vs Big Show
TRL:
I have viewed Alberto Del Rio with pure nonchalance ever since he debuted in the WWE. His character and style were just uninspiring and uninteresting in my opinion. Plus, come on–he obviously rents those cars. But crowd favorite Del Rio has been something of a different nature. For some reason I seem to care about his matches. It's like all of a sudden he started wrestling with a purpose. Also, it doesn't hurt to give Ricardo Rodriguez a Mexican bow tie.
Regardless of who comes out victorious, I don't think either man will put the belt around their waist. I think Del Rio is just a place holder until Dolph Ziggler cashes in his Money in the Bank briefcase, possibly this Sunday. Del Rio retains here. He's still way fresh into his title run, the WWE seems to be embracing his Latino heritage and Del Rio figures to be way over with the Arizona crowd. Also, if Ziggler is going to cash in, logic dictates that he'll do it against a face champion.
KOBEsh: It's extremely hard to predict where the World Title is going to end up on the Mania match card, and thus, hard to foresee the outcome here. Del Rio has been an absolute surprise smash hit with his rapid heel turn. The crowd eats him up for reasons I can't quite divine, as the great majority of the WWE audience generally doesn't like a) foreigners or b) people with money. Alberto Del Rio is a foreigner with money. It's almost as inexplicable as Heath Slater existing on my television. Looking at the lack of heel opponents for Del Rio to face, I think he loses it at some point before Mania…but not at the Rumble. Alberto wins this one.
Wrestlemania repercussions:
TRL: Fact: there is going to be a World Title match at Wrestlemania. It may last 18 seconds and almost cause me to put a shoe through my television set like last year, but there will be a match. But just because there will be a match, does not mean that either the Big Show or Alberto Del Rio will be involved. If Del Rio wins and Ziggler doesn't cash in, I see him keeping the title for a while. He's a fresh commodity in an organization that sorely needs it. If for some reason Big Show regains the World championship, I don't see him making it out of the next PPV, Elimination Chamber, with the belt.
KOBEsh: I don't see a lot of WM repercussions here, because I think that no matter who the winner is, there's going to be an Elimination Chamber match next month that will ultimately determine who's going to walk to Jerzey with the strap. However, if Big Show does reclaim, which I find unlikely, it may foreshadow a Ryback title match in early April.
WWE Championship
CM Punk (C) vs Dwayne "The Rock" Johnson
TRL: Everyone is expecting Rocky to go over here right? Here's what I would do; give Punk the victory. Can you imagine the television that would create? CM Punk would be unbearable to watch on Monday Night RAW after defeating "The Great One." Personally, I would love the smugness oozing from Heyman and Punk, but the intended audience would LOATHE him. Before you label me a clueless smark or whatever, relax. I want the Rock to win the belt at Elimination Chamber next month. John Cena vs the Rock is the best possible option for World Wrestling Entertainment at Wrestlemania. No, I don't want to see it again and no, a lot of you probably don't want to either. But if the booking were left up to me, Daniel Bryan vs CM Punk would main event WM, HHH and Cena would be completely left off the card…..and a lot of potential money would be lost. Vince McMahon reads my column. It's the only logical explanation I can come up with for the WWE ignoring my resume.
KOBEsh: Wow…that response was pretty saturated with hatred.
Wrestlemania repercussions:
TRL: This match has HUGE Wrestlemania ramifications. The winner will more than likely be in the main event of the big show. The only question is if the WWE is going to take the safe route; have the Rock defeat CM Punk clean in the middle of the ring and give Cena vs Rock II two months to put some asses in the seats. OR will they go with the MAMBINO plan? Delay the gratification just *a little bit more. Give CM Punk another 30 days on his title reign, but have the Rock enter his FIRST Elimination Chamber match and come out victorious. The WWE will still have a solid month of Rock concerts and John Cena battle raps to sell their PPV. We'll see what direction they go, but if I were a gambling man….and I am (DAMN you Tom Brady) I would bet the house on the Rock being victorious at the Royal Rumble this Sunday.
KOBEsh: I have to disagree with my extremely well-respected, slovenly colleague. The world thinks Rocky is coming out on top–what's that? MY GAWD THAT'S VINCE MCMAHON'S MUSIC!!! If we've learned anything from Vinny Mac over our poorly spent youths paying attention to this human circus, it's that he doesn't like it when the audience knows how we're going to arrive at our destination. For that reason, and that reason alone, I think Punk comes out with a huge (and very shady) W this Sunday. The Rock has ample opportunity to win the title over the next two months, and more to the point, I think that nearly two and a half months of build-up might be just a bit too much for a part-time wrestler who doesn't satisfy the MILLIONS by wrestling on free TV.
30 Man Royal Rumble match
– winner goes to Wrestlemania 29 and challenges
either the World Heavyweight C

hampion or the WWE Champion. 
So far these wrestlers have officially announced their intentions of entering this year's Royal Rumble:
John Cena
Dolph Ziggler
Alberto Del Rio
3MB (Jindar Mahal, Heath Slater, Drew Mcintyre)
Ryback
Primetime Players (Titus O'Neil, Darren Young)
Team Friendship (Kane, Daniel Bryan)
Randy Orton
Sheamus
Antonio Cesaro
TRL: Let's ignore the jobbers and focus on the wrestlers with an actual shot of winning the Royal Rumble. The abbreviated list looks like this: John Cena, Randy Orton, Sheamus, Ryback and with a very outside shot, Dolph Ziggler. One of these five men will almost certainly win the Rumble and be wrestling for the heavyweight championship of his choosing. John Cena is the clear favorite. If we are to believe the dirtsheets, John Cena will win the Royal Rumble and challenge the Rock at Wrestlemania. Of course there are other ways for that match to inevitably take place. If Cena doesn't win, I think Randy Orton takes down his second Royal Rumble victory. I see Ryback being a major factor and I think he will enter around 17 and have the most eliminations in the Rumble, but I don't see him winning it. His chances of making it to the final four are significant though. Sheamus won the Rumble last year and we haven't had a back-to-back winner since Stone Cold in 1997 and 1998. In fact, the last 11 Rumble winners have been first time winners. Look for that streak to end this Sunday by either John Cena (2008), Randy Orton (2009) or Sheamus (2012).
KOBEsh: Presuming that we're eventually headed towards Rock-Cena II for the WWE title, ths comes down to a Cena vs. the Field battle. I agree that Orton, Sheamus and Ryback are great options, but let's throw a monkey wrench herE: could the Rock lose against CM Punk earlier in the night and then later enter the Rumble…to win it? Even as tasty as that storyline could be, Cena takes it, but I wouldn't be surprised if it came down between him and Ryback and the newcomer won.
RUMBLE RUMBLINGS
What role will the Shield play during the PPV? Will they interfere in the Punk/Rock match or will they be involved in the Rumble itself?
Will Dolph Ziggler cash in his Money in the Bank contract and how long will he last in the Rumble as the number 1 or 2 entrant?
Will we be seeing the return of any WWE legends entering the Royal Rumble?
Who will be this year's Rumble "comedy relief"?
Can the Miz learn how to properly apply the figure four leg lock?
Will we have to suffer through 3 announcers entering the Royal Rumble again?
Will Kane become the all–time leader in eliminations? Will that even get mentioned?
Will Michael Cole explain to us the Latin translation of Sandow's elbow? I'll just answer that one now, yes, yes he will.
And most importantly, will this be the year we see the return of Pete Rose in the Royal Rumble? It might be Kane's last Rumble, please make this happen.
SURPRISE ENTRANT ODDS
Road Dogg 1:1
Billy Gunn 1:1
Mick Foley 3:1
Jack Swagger 4:1
Ric Flair 5:1
Tommy Dreamer 5:1
Brock Lesnar 10:1
Hacksaw Jim Duggan 10:1
Diamond Dallas Page 10:1
Ricky Steamboat 15:1
Undertaker 20:1
John Morrison 30:1
Batista 50:1
Pete Rose 200:1