WWE Battleground 2014 Preview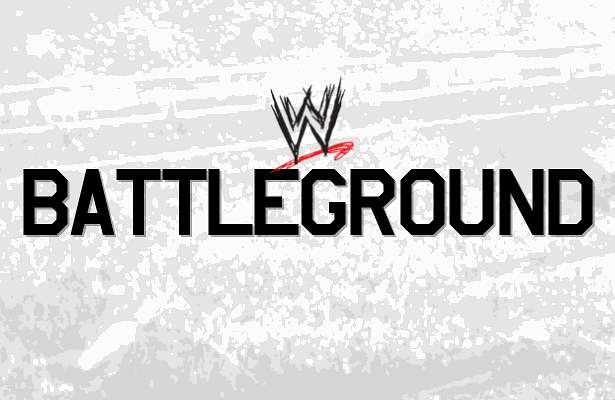 There was only one PPV big enough to get me to come back and write another column. And that PPV is WWE Battleground.

I'm just kidding, I'm on summer vacation and really, really bored. Free advice to all my Cena fans out there (people 12 and under), go into the public education field. You get summers off, just do something productive with your time unlike me who has pretty much just been taste testing different brands of salsa. Back to wrestling, I've fallen victim to the post Wrestlemania lull. Yes, I'm still watching RAW, but the whole Daniel Bryan situation has gotten me pretty down as a fan. Hopefully Battleground will be a good show and the WWE will have some strong momentum going into Summerslam. On to the preview.
Cameron vs Naomi
Welp, I know one match I won't be watching. Now to clarify, I don't hate women's wrestling. I'm actually very excited about the title match later on and the future of the Divas division in general. Paige vs AJ Lee will be awesome if given time and the rest of the division is full of women that can go as well. Never thought I'd say it, but Alicia Fox has been a refreshing presence on TV. Summer Rae can wrestle. Natalya is technically sound. Charlotte has been killing it in NXT. Emma can steal the show, your heart and your iPhone case all in the same match. What I'm trying to say is that the future of women's wrestling appears bright, but screw Cameron. She might be my least favorite person in wrestling history. I don't care about seeing her get beat, I just want her off of my television screen as quickly as possible. X-Pac heat + Vicki Guerrero heat X 1000 equals how I feel about Cameron. Any finish other than Naomi pulling back the mat and cradle-piledriving Cameron on the exposed concrete is unacceptable. I'm getting too worked up over a match I probably will not even watch.
Intercontinental Championship Battle Royal

Alright so can we all agree that I don't need to waste my time talking about the Great Khali, Xavier Woods, One Man Band, R-Truth, Zack Ryder, fake Sin Cara, Titus O'Neil, and the other Matador? Okay good, moving on.
That leaves us with Rob Van Dam, Dolph Ziggler, Big E, Ryback, Curtis Axel, Cesaro, Fandango, The Miz, Sheamus, Kofi Kingston, Bo Dallas and Alberto Del Rio. What I like about this match is it's unpredictability. Any of the guys I just mentioned could win the title. There are two things I don't like. First, it comes as a result of a Wade Barrett injury. Now a lot of people are higher on Barrett than I happen to be, but I was starting to really get behind him. The "Bad News" gimmick was his best use since being the leader of the Nexus. My other gripe is that a few of the wrestlers in this match are "above" the Intercontinental title. At least in my opinion, right now, Dolph Ziggler, Cesaro, Alberto Del Rio and even Sheamus are above the title. Now, if the WWE keeps the World and WWE championship united, combines the United States and Intercontinental belts and makes that title the legitimate second most important title in the company, then yeah, I can get behind some of the more established wrestlers wanting the title.
Alright: so you have to figure it's going to come down to some combination of Hollywood Miz, Sheamus, Cesaro and Ziggler right? I'd even throw in Bo Dallas as a darkhorse and RVD as the sentimental favorite. Van Dam will never be world champion again, but maybe they'll give him one final run as Intercontinental champion? It honestly doesn't matter to me who wins, as long as they aren't losing non-title matches on RAW every week.
Who SHOULD win: All you gotta do is BO-lieve. Only semi-joking there. But there's a lot of good choices.
Who WILL win: Sheamus who would then unify the Intercontinental and United States championships. (As much as I dislike Sheamus I would fully support this)
Tag Team championship: The Usos (C) vs The Wyatts
The two out of three falls stipulation in this match is a nice wrinkle. Big fan of both teams here. The Uso's have done all you can ask for in the tag team champions and that is make the belts mean something again. I don't have a whole lot to say here. This match will be great, just like all of their other encounters. I see the Wyatts walking out as the new champs but I also thought they were going to win last month at Money in the Bank. Either way, tag team wrestling means something again and it's been a long time since I've been able to say that.
Who WILL win: Wyatts
Who SHOULD win: Wyatts
Divas championship
Paige vs AJ Lee (C)
It's no secret that I'm a fan of both of these ladies. I watched Paige wrestle for a longtime in NXT before ultimately winning the first NXT divas championship tournament. I've been a huge fan of all things AJ (minus general manager AJ Pantsuit). This will not be a bathroom break for me. I'm excited to see these two women get some extended time to ply their craft on PPV. So far we've seen Paige debut and beat AJ the night after Wrestlemania in a short match. And we saw AJ return and beat Paige in just a few minutes. It's going to be nice to see them take their time and wrestle without their match being part of an angle.
Like I said earlier, I'm a fan of Paige, but even I can admit that her run as Divas champion was a bit…underwhelming. The WWE has to realize that not every crowd is Miami, Chicago, Philly, Brooklyn or London. The vast majority of Monday Night Raw watching wrestling fans had no idea who Paige was when she debuted. Yeah, the smart crowds do, but Omaha or Columbus are probably not going to get behind Paige the way you want them to, if they aren't educated on who she is. All I'm saying is that when they call up the next NXT star cough, cough Sami Zayn, maybe put together a video package or two.
Who WILL win: AJ Lee
Who SHOULD win: AJ Lee
Jack Swagger vs Rusev 
For the first time in his career, I care about a Jack Swagger match. Swagger and Zeb Colter's face turn was more of the crowd saying "he may be a loud-mouth, obnoxious, racist xenophobe, but he's OUR loud-mouth, obnoxious, racist xenophobe." When Tea Party Patriot Zeb Sean Hannity Glenn Beck Colter is defending Barack Obama, you know the other side is saying some out of this world shit. That being said, Lana's legs could turn me from patriot to commie pinko in seconds. This match is important because I don't think Rusev has lost a match yet, which puts him in some pretty prestigious company. Bo Dallas > Bill Goldberg > Rusev. If the WWE is serious about pushing Jack Swagger, letting him beat Rusev clean would a big step.
Who SHOULD win: Rusev
Who WILL win: the viewers during Lana's entrance
Chris Jericho vs Bray Wyatt
Y2J is back and here to save us…from a backwoods swamp cult leader? Alright, the build up hasn't been the greatest, but on the plus side, Chris Jericho has yet to lose to a little boy with a voice modulator. I've always been a fan of Chris Jericho, in-ring and 
out. I'll listen to him shill for Stamps.com, Dollar Shave Club and DDP Yoga on his podcast all day because it means I get to hear him talk about the business with people like Edge, Christian and Paul Heyman. To borrow a phrase, the man truly knows what is "best for business." He's back for a few months before he goes back on tour with Fozzy and he's here to put over the younger talent (that John Cena won't).
Who WILL win: Bray Wyatt
Who SHOULD win: It depends on what they're planning on doing with the feud. If it is going to continue into Summerslam, either man can win here.
Dean Ambrose vs Seth Rollins
This match gives me wrestling wood. I still believe in all three members of the now defunct Shield. Roman Reigns is obviously the guy being pushed into Daniel Bryan's spot at the moment, but all three of these men are main eventers. I'm not going to lie and pretend I've followed Dean Ambrose and Seth Rollins since their Jon Moxley/Tyler Black days or even knew about their battles at FCW until recently, but these might be my favorite two guys in the company (with all due respect to Daniel Bryan, Antonio Cesaro and Sami Zayn). These two are going to tear the house down and I don't want them to stop feuding. Ever. When they both do move up and are part of the main event scene week in and week out, I never want them to forget the past they have with one another. I want them to be the Tommy Dreamer and Raven of this generation. Although I feel like they're both more Raven than Dreamer.
As for the actual match. Jeans Ambrose will obviously be taped up after the beat down that occurred on Monday. That might be enough to give Rollins the edge in this one. It's very unlikely but if Rollins emerges victorious and relatively unscathed, he could potentially be involved with the WWE World Heavyweight championship match. If Ambrose wins, I would not expect a Seth Rollins appearance during the main event. Either way, keep this feud going forever please.
Who SHOULD win: Realistically Seth Rollins. On an even playing ground, Rollins and Ambrose are equals, but an injured Ambrose gives Rollins the advantage.
Who WILL win: Smart booking would have Rollins win, keeping open the possibility that he'll cash in the briefcase later. Ambrose is hurt, it won't make him look bad to lose. Let him get his win back at Summerslam.
WWE World Heavyweight Championship
Kane vs Randy Orton vs Roman Reigns vs John Cena (C)
Listen, if you don't want to be spoiled, stop reading now and ignore the giant ass picture posted at the bottom of the page. However, if you have watched any amount of professional wrestling in the past 10 years and you see that it's John Cena vs the field + odds, you can deduce with a relatively high degree of certainty that the Doctor of Thuganomics will be coming out on top.
That being said, the main event for next months Summerslam PPV has already been leaked. Our friends over at Uproxx, (well less "friends" and more I'm the guy who keeps trying to invite myself over their house and they aren't interested) have posted the leaked WWE Promo Video and promotional poster for Brock Lesnar vs John Cena. You can find that here.
So is there a point in even analyzing this one? The only question is whether Lesnar will physically be in the building this Sunday.
Who WILL win: John Cena, I'm pretty positive about this one
Who SHOULD win: Daniel Bryan damn, I just teared up a little bit.