Winners and Losers of the NBA trade deadline
KOBEsh went to Vegas this past weekend. While there, he decided to spend some time writing about the NBA trade deadline's winners and losers. His dedication is shameful yet endearing.


This post is probably a touch outdated, but the man wants the post run based on principle alone.



WINNERS
Los Angeles Lakers
As we went over last week, the Lakers definitely scored big at the deadline. They desperately needed a point guard, and Ramon Sessions might have been the best case scenario for them, especially without giving up one of their three All-Stars. While Jordan Hill wasn't the best solution for their need of a scorer off the bench, hopefully he'll be able to give LA half of what near-Laker Michael Beasley would have given them. Subtracting Derek Fisher will have an effect on chemistry,  especially with Kobe and the other vets, but he had to be dealt to diffuse an almost certain caustic situation in terms of point guard minutes. A huge win for the Lakers, one that maybe could transform them into a title contender.
Orlando Magic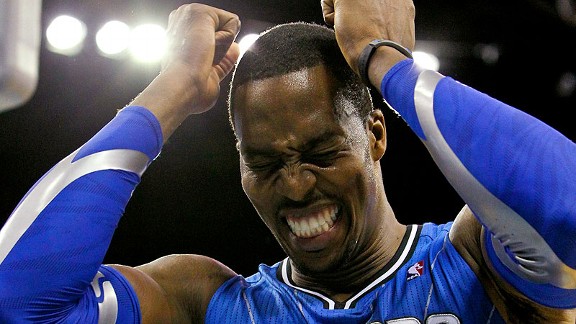 How could they not be? Let's not even get into Dwight's imitation of a drunk 19 year-old who "kinda wants to get down tonight, but I don't know, my friends are here and I'm sooooooooo drunk" that he's pulled the last few days. As I said to Mambino correspondent El Miz yesterday, it's amazing that these players seem to concerned with their brand, and yet, not at all concerned that the circus they creates far more damage than any move could provide improvement.
Regardless, Orlando is a huge winner here. They somehow (I'm still not sure. Did they have naked pictures of him and Jameer together? Did they threaten to kill his dog? What happened?) convinced Dwight to stay for another year and a half, in which GM Otis Smith will have to pull a flock of rabbits out of his butt to make this team a contender. Regardless of whether he does that (amazing) feat or not, he has bought himself another year (until the next trade deadline) to prove to D12 that this team is worthy of him committing for another 5 seasons.
San Antonio Spurs
In a trade with the Warriors, the Spurs flipped SF Richard Jefferson for a new addition SF Stephen Jackson, who had arrived in a deal from the Bucks only days earlier . As I mentioned a few days ago, Jackson is having one of his worst seasons in years, though I would put a lot of the onus on the fact that he was playing in a system his skills weren't best suited to, for a coach who he didn't get along with. Jax won a title with the Spurs almost a decade ago in 2003, and famously fell in line with Greg Popovich in, what had been until then, a rocky NBA career full of trouble. Jefferson has become more and more ineffective each year, and 2012 is no different. At his best, Jackson is a gigantic upgrade over the Spurs, and even at his age (33), is still a threat to score, rebound and pass with tremendous efficiency. A great acquisition for the Spurs, who are quietly angling for title number 5.
Washington Wizards
JimmyWa's reaction to getting Nene.
In a three-way trade with the Clippers and Nuggets, the Washington Wizards acquired Brian Cook and Nene for the price of Nick Young, an injured Ronny Turiaf and the unintentionally hilarious JaVale McGee. I couldn't sum this up any better than friend of the blog and last Wiz fan standing, AO:
"Holy crap, this is awesome! We're turning Nick Young and Javale McGee into Nene!! At this point can we keep the momentum going and just ban Andray Blatche from all Wizards facilities?  Honestly, he's the last domino to fall, and he's got to fall soon. Hopefully we can officially amnesty him and buyout Rashard before the draft.  That way we add our 2 new youngsters (Whelan and I were talking earlier, it's gotta be Harrison Barnes or Michael Kidd-Gilchrist, unless we win the lottery) and head forward with a young core that has an actual appetite for winning and playing defense"
Completely agree AO. The Wiz would have "won" here just in getting rid of Young and McGee, as a way of addition by subtraction. Though great for a seemingly never-ending cascade of hilarious youtube clips, McGee and Young (along with Blatch) are exactly what's wrong with the Wiz. They're young, extremely talented, raw, selfish and stupid. They weren't going to develop in an environment in which they had gotten away with so much, and certainly weren't going to shape up any time soon. In getting a great forward/center like Nene (with a 5-year contract), the Wizards got a player who plays extremely hard to run along with The Pope John Wall, Trevor Booker, Jan Vesley, Shelvin Mack, and a couple other players who actually give a crap. Great day for the downtrodden Washington fan base.
LOSERS
Los Angeles Clippers
In case you hadn't gotten this 4 seconds ago, Nick Young is a cancer 2 team + league. Though he can score points by the bucketload when hot, Young is a streak shooter who is completely undisciplined and thinks he's much better than he is. The Clippers did need a shooting guard to take up some of the slack left in the wake of Chauncey Billups' season-ending injuries, but Nick Young is less than an ideal fit. Yes, the Clippers could use a conscious-less gunner, but if that was the case, then Jamal Crawford and Ray Allen are both far better options. The Clips will stay a really difficult out in the playoffs, but Ray or Jamal might have put them into title-contention in 2012.
Atlanta Hawks
MAMBINO's disdain for the Hawks is well documented. Although I think they've long been a bunch of posers, the time was now for the franchise to decide if the core they have can win going forward, or they need to blow it up and rebuild around Josh Smith, Al Horford or Joe Johnson. Instead of picking one and either getting more players or trading some away, they did nothing. Another apathetic set of decision-making from one of the worst franchises in the league.
Charlotte Bobcats
With 6 whole wins, the Bobcats decided against trading anyone. Somehow, even with interest in Kelly Clarkson stunt double Boris Diaw and undersized, redundant PG DJ Augstin, owner Michael Jordan decided against dealing those guys for picks or any prospects. Yes, the Bobcats needed to keep some salary to hit the cap floor, but to not make any deals in a lost season during a rebuilding period is pretty puzzling. Yet another great front office decision from the greatest of all time.
Portland Trailblazers
The Blazers made one good move before the deadline, but a couple puzzling ones.
For an expiring contract of Marcus Camby, the Blazers netted a future second rounder, and classic draft busts Hasheem Thabeet and Jonny Flynn. Calling this trade a "win" for the Blazers would be like calling getting herpes a "win" because it precludes you from getting any more STDs. Yes, they got two young, raw "prospects" and a future pick, but more than anything, the Blazers just got two players that will cost money and probably never amount to anything besides future punch lines on MAMBINO. On the flip side, the team knew it wasn't going to compete this year, so they jettisoned Gerald Wallace for a future first round pick from perennial lottery team New Jersey (the real prize here), as well as an expiring Memhet Okur and Shawne Williams. These deals were solid moves looking towards a future building around Nic Batum and LaMarcus Aldrige, although they'll suffer in the short term.
The real reason the Blazers lose at the deadline is the firing of coach Nate McMillan. We've waxed poetic on the greatness of McMillan before, and how much admiration we have for a man who's dealt with (most likely) career-ending injuries to two franchise-cornerstone players, as well as a wealth of missed games from everyone from bench warmers to key role players. Yes, this team may have fallen out of the playoff race this year, but Nate McMillan is one of the finest coaches in the league. His teams always perform far beyond expectations (including the beginning of this season) and it's ridiculous that he seems to have been fired because a locker room rife with injury finally stopped playing as hard as they have for the past few seasons. I don't feel that bad for Nate, because I know some other coach-less franchise will pick up a talent like him in no time (pay attention BockerKnocker). However, the worst move maybe made all day.