We're back everyone! A hastily-written 2012-13 NHL season preview
So, not so surprisingly, I've been somewhat quiet around these parts and though I'd rather not go into it, there was a really good reason why. That said, on Saturday at long last the puck will be dropping on the 2012-13 NHL season and there is just a ton of stuff to get excited about, to say nothing of the premier matchups (Chicago-Los Angeles, Pittsburgh-Philadelphia, New York-Boston) that we get on opening day alone.
However, given the consequences of the NHL's work stoppage, rather than the full 82-course serving of a standard NHL season, we'll be seeing a slap-dash truncated 48-game menu this time around. What's even more wild is that the 48 games each team plays will be played entirely within a span of 99 days, which means less of a developed and cohesive performance all around and more of a frenetic breakneck scramble to make the postseason, which will be played out in full.
If anyone remembers last season's 66-game NBA slate in which it seemed like the Knicks were playing about five times per week, this will be something like that. No one is entirely sure how different teams will respond to it, and as a result of the condensed schedule certain teams one might have expected to be title contenders (the Rangers, Detroit) might fall victim to exhaustion due to age or an aggressive style of play while teams not quite ready to make the jump (Edmonton, Florida) could take advantage because of their relative youth in the shortened schedule.
The important thing to understand, however, is that with only one other example of this situation to fall back on, no one is really sure how this will shake out, though if it ends the same way, I won't really be complaining. Either way, it's going to be kind of hard to predict who to bet on in the horse race, but because we need to fill these column inches, here is who might be Secretariat, and who might be Zippy Chippy.
Boston Bruins – Winning a Stanley Cup requires skill, experience, the ability to roll four lines and strength on both the front and back ends. Boston has each of those in spades and with 2010 No. 2 overall pick Tyler Seguin coming into his own last season, the Bruins also have an electric scorer, which was the only thing they lacked during their 2011 title run. Tim Thomas won't be in the crease this year due to a self-imposed sabbatical, but Tuukka Rask ain't too shabby either, and you don't want to get him mad.
Chicago Blackhawks – People seem to forget that Chicago, just three seasons removed from a championship, had an impressive 101-point season a year ago and lost a first-round series to Phoenix that was a virtual tossup with the first five games all going into overtime. Corey Crawford doesn't inspire the most  confidence between the pipes, but nearly all the key pieces of 2010's title run are still in Chicago and still young.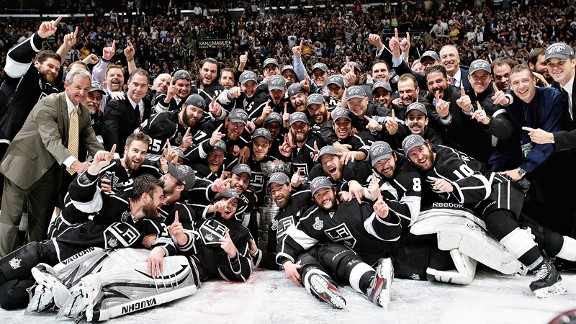 Los Angeles Kings – Some people might assume Los Angeles' Stanley Cup run a season ago was flukish considering the Kings were the eighth seed, but the real fluke might be that they had a poor enough regular season to fall that far. L.A. was a sexy preseason Cup pick a year ago, obviously for good reason, and the Kings return literally every player that saw ice time in the 2012 Stanley Cup Playoffs.
New York Rangers – After adding high-on-scoring-low-on-winning winger Rick Nash from Columbus the Rangers are a popular Stanley Cup pick. After all, they did get the top seed in the East a year ago and appear to have gotten better, but the Rangers could be a sucker's bet. New York lost the Eastern Conference Final last season to New Jersey not because it wasn't as good but because its grinding sacrifice-the-body-to-make-hits-and-block-shots style wears you down. The Rangers win, but they win by inches not feet, and after a while, that wears you down. If they were spent after two seven-game series in the first two rounds last season, how will they fare playing virtually every other day for three months?
Pittsburgh Penguins – For a team to succeed in the condensed schedule of the 2012-13 season it will need electric skill, a game that is less physical and more based on tactical strategy and yet still solid defensively, experienced goaltending and enough youth that legs will still be fresh after a condensed schedule and two months of the postseason. And having Sidney Crosby completely healthy for the first time in two years doesn't hurt either. We may have just described Pittsburgh in a nutshell.
St. Louis Blues – Looking for the least sexy Cup contender you can find? They're in an appropriately unsexy city like St. Louis. The Blues surprised with an unexpected title in what might have been the deepest division in the League last season, doing it with taut defense, bizarrely effective tandem goaltending, just enough scoring and completely buying into coach Ken Hitchcock's system. There's no reason to think the Blues, who bring all of their key players back and add highly-touted Russian prospect Vladimir Tarasenko to the mix can't do the same thing this time around.
Washington Capitals – The Caps make this list simply by virtue of being the same talented lot they have been for the past five seasons. Alex Ovechkin continues to be the headliner, but with new coach Adam Oates behind the bench there is some mystery in Washington. Of course, if you combine that with a fully healthy Nicklas Backstrom and Mike Green, both of whom missed significant time last season, mystery could be a good thing.
Vancouver Canucks – Vancouver is essentially Washington west, a team deeply talented with skill and speed to burn that has consistently come up just short of the ultimate goal. Last season the Canucks became the first Presidents' Trophy winner to get swept out of the first round, one of many events that has led to Roberto Luongo losing his starting job in net to Cory Schneider and becoming trade bait. Luongo's will-they-or-won't-they trade drama could be a distracting sideshow all season, but if the Canucks weather that they should coast to another Northwest title, and might be able to take advantage of a week division to grab the No. 1 seed once again.
Show horses
Some of these teams are near the end of their competitive windows (Detroit, Philadelphia, San Jose), some look like they're just starting to open them (Edmonton, Florida, Minnesota) and some are just total mysteries (New Jersey, Phoenix), but when you get past the top tier of championship contenders, there is a confusing mess of who will be scrambling to fill out the postseason field. At least one of these teams will cause some damage in the playoffs, one or two of them could very easily make an unexpectedly deep one, and each other them is talented enough that, given a break here or there, they could be this year's New Jersey Devils, and they just might be playing for the Cup in June.
Carolina Hurricanes
Detroit Red Wings
Edmonton Oilers
Florida Panthers
Minnesota Wild
Nashville Predators
New Jersey Devils
Ottawa Senators
Philadelphia Flyers
Phoenix Coyotes
San Jose Sharks
Beasts of Burden
Want to see a group of teams that could make a run at the postseason but probably won't? Look here. Many of these teams are knee-deep in rebuilding, with Colorado, Dallas and the Islanders as prime examples of teams making the right moves to change their fortunes for the future. Those moves probably won't be enough this year to reach the playoffs — but they might be next year.
Anaheim Ducks
Buffalo Sabres
Colorado Avalanche
Dallas Stars
New York Islanders
Tampa Bay Lightning
Winnipeg Jets
They better not break a leg

I think the title here is self-explanatory. These four teams are likely to bring up the bottom of the field (at least in my estimation). They are each messes with no cleanup in sight, a demarcation Toronto could have avoided until they stunningly fired GM Brian Burke last week, though we do thank them for enabling the greatest press conference hockey has seen in years.

Calgary Flames
Columbus Blue Jackets
Montreal Canadiens
Toronto Maple Leafs
Well, there you have it. These are the teams worth looking out for and the teams likely to make waves in the shortened NHL season. If it seems overwhelming and as if there's a lot of information to process in a short period of time, that's because there is, but on if you're worried about not really knowing how this is all going to shake out, reassure yourself that no one really knows how it's going to shake out.
Of course, you probably all want predictions anyway, so here they are. I reserve the right to disown these as soon as two weeks into the season.
Eastern Conference                                            Western Conference
1. Boston                                                           1. Vancouver
2. Pittsburgh                                                       2. Chicago
3. Washington                                                    3. Los Angeles
4. NY Rangers                                                     4. St. Louis
5. Philadelphia                                                    5. Nashville
6. Florida                                                           6. Detroit
7. New Jersey                                                     7. Phoenix
8. Ottawa                                                           8. San Jose
9. Carolina                                                         9. Minnesota
10. Tampa Bay                                                  10. Edmonton
11. NY Islanders                                                11. Dallas
12. Buffalo                                                        12. Colorado
13. Winnipeg                                                     13. Anaheim
14. Montreal                                                      14. Calgary
15. Toronto                                                       15. Columbus
Conference Finals
(2) Pittsburgh over (1) Boston
(2) Chicago over (3) Los Angeles
2013 Stanley Cup Final
(2) Pittsburgh over (2) Chicago
As I said earlier, this is all almost certain to be incorrect come June, but at the very least, you might have some idea of where I'm coming from and perhaps some idea of why I'm wrong. But you shouldn't put too much stock in this because it's merely a prediction and predictions are silly.
Games are not. And finally the games will start tomorrow.
The puck drops in 26 hours.