The Rise and Fall of Blake Griffin's Likeability

Last year, if you asked a random NBA fan to describe Blake Griffin, you'd hear people in awe of his athletic accomplishments. Human highlight film. Incredible dunker. Athletic wunderkind. Freak of nature. In other words, most people's impressions of Blake Griffin came from Sportcenter's Top 10 and his YouTube highlights. This year, it'd be a different story entirely. You'd still hear about his dunking, but you'd also hear him called a whiny brat. Coddled superstar. Showboat. How did this dramatic 180 happen so fast, taking place over a few months instead of the years it usually takes an NBA player to establish themselves as a reviled villain?
In many ways, Blake Griffin is a feel good story that should be celebrated around the league. He's a kid from Oklahoma City who played ball at Oklahoma, his local university. He even returned for an entirely unnecessary second year of college, averaging an unbelievable 22.7 points, 14.4 rebounds, and 2.3 assists per game. He was a unanimous All-American who swept all six of the National Player of the Year Awards. Blake even carried his team on a run deep into the tournament before losing to eventual champion North Carolina.
At the NBA draft, something amazing happened: Blake Griffin was able to give the Clippers hope for the future. The Clippers, of 0 NBA titles, 0 Western Conference titles, and (impressively) 0 Pacific Division titles, suddenly had someone so talented that he could turn the franchise around. In a draft packed with talent like James Harden, Tyreke Evans, Stephen Curry, and Hasheem Thabeet (ha-ha), it was a no brainer to take Blake Griffin at number one. His career started off with a bang and Blake was the Summer League MVP by a large margin. I remember watching him dismantle the Lakers summer squad with an athleticism and ferocity that surpassed anything I had expected. Then, the most Clippers-esque event of his career happened in the last preseason game: he landed on his kneecap and had season ending knee surgery before he could play a single game.
YouTube Sensation on the Rise
The 2008-2009 Clippers stumbled to a 19-63 finish without Blake, but hope was on the horizon. Although the 2009-2010 incarnation won only 29 games, Blake left a hell of a mark on the franchise and created buzz in Clipperland which exceeded that of their last playoff team, a promising squad led by MVP candidate Elton Brand. He was a walking Top 10 play that was exceptional to watch on ESPN every night. His leaping ability and relentless attacking created an unparalleled series of dunks that simply dominated the Internet. He was the talk of the league and if you haven't seen his dominant performance at the 2011 Dunk Contest, drop everything and watch this now.
He wasn't just a dunker though. Griffin was also the first rookie All-Star reserve voted in by the coaches since Duncan and won all six rookie of the month awards. He amazingly played 82 games and was the first rookie to average the vaunted 20/10 since Brand himself. Off the court, he was witty and likable. He lent his charm to Funny or Die's hysterical arsenal of videos and the Norm Macdonald show. The dude seemed poised for a meteoric rise to the top of the NBA, both in terms of on the court performance and fan adoration.

Unexpected Downfall
This year, Blake Griffin has continued his on-court ascent, making the Clippers a legit free agency destination and starting at power forward in the 2012 NBA All-Star game. After Chris Paul joined the circus, the Clippers went from entertaining to "Lob City," must-see TV that is also currently competing for the Pacific Division crown. However, everything has changed in terms of his public perception. There is a lot of talk about Blake Griffin this year, unfortunately not all positive. He still has the wow factor and the highlight reel plays, but there's also a steadily rising undercurrent of annoyance and hatred from other fanbases.
I'd submit that the root cause of this backlash is not a totally different Blake Griffin, but simply more exposure, both in advertising and people watching his game. His sponsorship deals have exploded, with Blake hawking Kias, Subway sandwiches, AT&T phones, and Vizio electronics with no sign of slowing down. This year, there are actually Clippers games broadcast nationally, and a lot of them at that. People aren't just watching his highlights. He's dunking in close games with stakes instead of Clippers routs at the hands of real NBA teams with playoff aspirations. With that exposure, people have slowly started to realize that there are some aspects to Blake Griffin that may not exactly be likable.
Breaking It Down
First of all, people have noticed that Blake Griffin, and Lob City at large, likes to celebrate… a lot. Those kinds of demonstrative celebrations are fine after the dunk of the year or a huge basket, but that doesn't seem to be the criteria he employs. To the casual observer, it seems like Griffin celebrates every time he scores, rubbing it in the face of his opponents. He borders on taunting after every dunk and he's gotten into the habit of staring down the opposing bench. Blame it on youthful exuberance if you want, but it's still not the kind of behavior that will endear you to opposing fans or the NBA community at large. Ultimately, any superstar's legacy in the NBA is defined by their rings, no matter how thunderous the dunks. That's why we will always look at Vince Carter as an underachiever.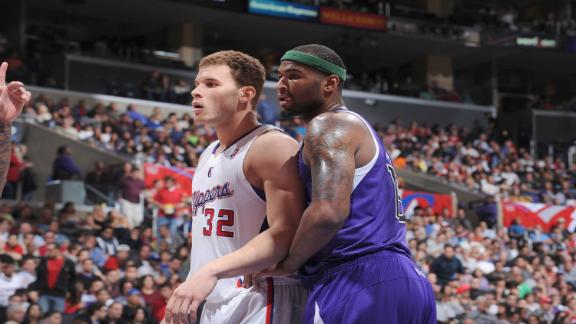 Beyond the celebratory histrionics, Blake Griffin, national TV presence, has emerged as a big whiner who constantly pleads with the refs. As a Lakers fan, I was mad enough about his blatant offensive foul during a big dunk on Pau Gasol. Minutes later, I was completely taken aback to see him turn and whine to the refs after putting Gasol in a headlock while battling for a board. Most NBA players whine way more than their fans would like; however, I'm not convinced Blake Griffin thinks he has ever committed a foul. He throws his arms in the hair while glaring at the officials seemingly after every play. Blake is completely transparent with his emotion, exhibiting a lack of professionalism and doing a disservice to his team over the long run. He's earned his 9 technical fouls this season, but it will simply get worse for Blake as his reputation builds. Demarcus Cousins was fined 25 large last week for his inflammatory comments about Griffin, but he was just saying what the rest of the league was thinking. Cousins said that Blake is coddled by "the refs, the league — period. He gets away with (everything). He taunts players. Nothing is done. He's babied."
Beyond his gloating and smug demeanor, opponents are starting to dislike the way he plays. Aside from his lack of a decent jumper, he's a mediocre defensive player whose style has been to foul hard and try to scare people out the paint. Blake's gotten into the habit of dangerous shoves to the back of opposing players, including one against the Lakers that almost sent Mike Brown into cardiac arrest. That play was dirty any way you slice it. Rasheed Wallace got a bad rep for this and Bynum is developing one. Griffin would be wise to learn from the public reactions to those two before he does something that will follow him for the rest of his career.
And the flopping. How can we forget the flopping? Exhibit A is the blatant fake that rightly infuriated Cousins. Exhibit B saw the most prominent member of "Flop City" nearly kill a woman in order to sell the hit. Exhibit C earned a special Matt Barnes call-out after the game. Look: flopping is a time honored tradition in the NBA, but Griffin's track record here is almost as long as the tape of his dunks. There's a big difference between taking a charge and flopping around like a 6' point guard. Everyone expects it from Derek Fisher and Manu Ginobili, but not from a physically imposing big man like Blake Griffin.
A Nebulous Path Ahead
As I'm reflecting on Blake's past and future, part of me wonders if this is just the modern landscape of sports that we live in. How would Jordan have fared in today's media spotlight, with the kind of 24/7 cameras on him that Kobe and LeBron have had to deal with? Kobe was ambushed by an amateur in a parking lot with a cell phone for Pete's sake. Maybe overexposure is really the story here, but I'm inclined to disagree that it's the whole story. I think that the exposure has shown the world what kind of player Blake Griffin is, and it's unfortunately less likable than we all thought.
When it comes down to it, the question is: what kind of superstar will Blake Griffin choose to be? The 2008 Olympic Team may be the old guard at this point, but I wouldn't single out LeBron, 'Melo, or Dwight for PR advice or confuse them with sagacious elder statesmen. Those stars have consistently appeared infantile and obsessed with their brand over basketball, which has been counterproductive to say the least. The counterbalance appears to be the 2010 World Championship Team, led by workmanlike superstars like Kevin Love, Derrick Rose, and Kevin Durant. These players appear to be wise beyond their years while committing to hard work and being the leaders of their respective teams. I wouldn't be surprised if they end up with far more rings as well.
In the end, the choice is Blake's. He can tone down his on-court antics and grow into his role as a leader or he can focus on highlights over Ws. Yes, superstars win championships, but there's a reason Kobe took all of the big shots during the Olympics and boring old Tim Duncan has won more titles than all of the superstars who forced trades combined. There's no question that Blake is tremendously talented and charming off the court. The question is whether or not he's capable of adding a jumper, playing better defense, and channeling his emotion into more productive outlets. These moves may not produce highlights, but they may bring the hardware and accolades that serve as the ultimate vindication and measuring stick for an NBA player.