Super Bowl Preview: The Anxiety of History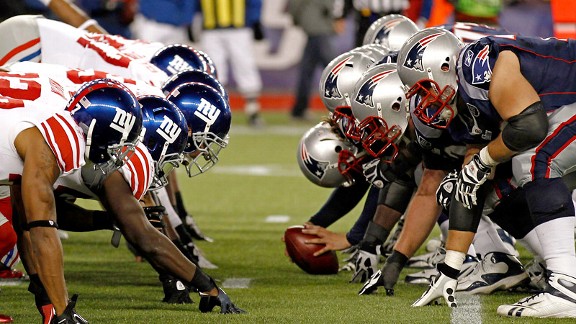 Many of you know — or at least assume from the name — that I'm mostly here to talk to you about hockey. I do love hockey, this is true. As a fan of the New Jersey Devils, I've been a dedicated and largely satisfied fan for most of my life. Their recent struggles aside, before last season the Devils hadn't missed the playoffs since before I hit puberty, and in my lifetime I had seen three Stanley Cups, which isn't too shabby. I wasn't entirely sure what to expect when the Devils missed the playoffs for the first time last spring, but as I later discussed with a coworker who was equally as dedicated to his Detroit Red Wings, watching the postseason was, well, fun. And without stress. And kind of enjoyable.
Don't get me wrong, I would much rather see my Devils in the playoffs than not, but there is a dirty little secret about professional sports that the Leagues and teams would probably prefer you don't know: It's not fun to watch your team in the playoffs. Not one bit.
I bring this up because in 48 hours, the first sports team I ever fell in love with — and the one I probably like more than any other — is going to roll for all the marbles in Super Bowl XVLI when my Giants take on the New England Patriots. As I found four years ago, there is no greater high in sports than when your team wins an unexpected championship against a truly great foe in the waning seconds, but the anxiety leading up to those moments can be excruciating, and this time around the stakes are the same, but the expectations are wildly different.
The Giants are a hot team riding not just a strong defensive front but a quarterback who has finally manifested and fulfilled his promise as one of the top signal callers in the League — one with a wide receiving corps that has shredded foes on its playoff run. The Patriots are still a good team, but they are not a great one and they no longer have a perfect 18-0 record blinding the masses from the fact that they are flawed and mentally exhausted by the pressures of perfection.
That changes the perception — and the inherent anxiety — because now the Giants are not just scrappy underdogs, they have expectations from a significant segment of their fan base, the media, and evidently themselves as the last week's bluster has shown. That adds up to me writhing with knots in my stomach for two weeks after the momentary joy of getting through the NFC Championship Game, which was almost certainly the most angst-inducing, emotionally exhausting football game I've ever watched.
Of course, even if it's angst-inducing for us fans, none of this really matters, for the exact same reason that I told a friend of mine last week when he was worried about being over-confident that it didn't matter.
We're not playing.
There are only 106 people who can have an impact on the physical action on the field as players and only a handful more that can do it as coaches or front office personnel. We won't be performing. We will only be watching. And really, in the end, that may be the worst part about it, having an emotional investment without having any control. But in the meantime we can pretend to have an impact, which we do with an endless series of overanalysis, video dissection, storyline invention and predictions that all add up to ceaseless noise.
Far be it from me to refuse to add to that cacophony, however. So here we go, in as simple a way as possible.
When the Giants have the ball

See, this Eli Manning feller. He's really pretty good. And after last week's virtuoso performance in which he was sacked six times, knocked down 12 times and pressured 20 times, he has a degree of toughness that cannot be questioned. And as we've all also noticed, his wide receiving corps has been superb this postseason with Victor Cruz chewing up defenses underneath and a finally healthy Hakeem Nicks stretching secondaries long — oh and Mario Manningham has done a decent job of picking up the remaining scraps — New York's passing game looks awfully hard to contain, particularly if Manning gets time. Let's throw in the fact that over the last few weeks the Giants' running game has picked up and that Ahmad Bradshaw, who spent most of this season not practicing due to a broken bone in his foot, has not only practiced this week, but also feels good.
This could be pretty hard to stop, and the Patriots will be trying to stop it with the 31st-ranked defense in the League — and the worst defense production-wise, in Super Bowl history. Now they do have Vince Wilfork, who, and I'm not kidding, just might be the best athlete in the entire League, and I would expect him to give the Giants trouble in the middle creating pressure on Eli, as New York's biggest glaring weakness against San Francisco was how brutalized the offensive line was against the 49ers incredible front 7. But New England's front four isn't as good and Eli was largely unflappable in the face of the pressure. Meanwhilst, the Patriots' defense has given up yards by the bucketful for months, and while many claim they've improved lately, this is a team that beat up on a team with no quarterback (Denver), allowed Joe Flacco to drive down their throats in the final minute before being saved by a botched field goal, and with a conference title on the line, was covering Anquan Boldin with Julian Edelman.
You can draw your own conclusions, but if I'm the Giants, I'm not scared.
When the Patriots have the ball
Make no mistake, though, New England's offense can be just as frighteningly potent as New York's. It doesn't have the same variety of weapons — the wide receivers aren't nearly as talented as the running game is mediocre. But the Pats do have that Brady fellow, and he's pretty good. His deep threats aren't the same as they were four years ago, but this offense is not built around the deep strike. It abuses the middle of the field with Aaron Hernandez and Rob Gronkowski, who are a matchup nightmare for nearly any linebacking corps.
But that said, the Giants' linebackers have played well this postseason and the bigger concern for the defense is an average secondary allowing wideouts to get behind them. If they can keep the ball in front of them, the damage is somewhat minimized. And that doesn't even bring up the fact that Rob Gronkowski's ankle injury, which he'll certainly play with, has to be taken into account as a factor that could minimize his effectiveness pretty significantly.
The other factor is that the Giants pass rush has beaten up this offensive line a number of times before and it wouldn't be a shocked to see Osi Umenyiora turn Matt Light into his personal punching bag. ESPN did run a statistic yesterday pointing out that New York is probably in for a long day because the Patriots run a larger percentage of two tight end sets than most and the Giants haven't had nearly as many sacks against that formation. This is flawed however in that a) teams really don't use that formation often, b) when they do it's usually for extra blocking in the running game, c) if they're passing, those tight ends will generally chip off the defensive ends to slow them down anyway. The reason the Giants haven't succeeded in sacking quarterbacks in a number of two tight end sets is because they're not really conducing to sacks in general. It's not a weakness for the Giants. It's a weakness for anybody. So, thanks for the biased information, ESPN. And don't forget, if Gronkowski isn't healthy enough to perform, most of this becomes moot anyway.
Intangibles
The Patriots have that whole revenge factor thing going for them, but the Giants have pizza. Need I say more?
Prediction
I realize that the information I laid out above is heavily skewed toward my own hopes for the night, and I don't want to give anyone the indication that I think the Pats are in for a beatdown. I don't. Brady is too good, and while he'll get pushed around, he will also get his throws and get his points. But I do think the Giants are just playing at too high a level and are excelling on both sides of the football. The Giants' defense was low-rated during the regular season as well, but it has played like a far superior unit in the postseason and, also, was rarely healthy in the regular season. The Giants have beaten the Patriots once this season, and did so in New England and without Hakeem Nicks and Ahmad Bradshaw. The Patriots will have their best offensive weapon playing through an injury that has kept him out of practice nearly all of this week, and have beaten a grand total of one team this season with a winning record — and probably shouldn't have.
It's always hard to say who should win a game like this, and I have difficulty feeling confident even with the facts I've come across, but I'm hoping this is one time my brain and heart will be on the same page. I see a game that stays tight for three and a half quarters, with a late score for the Giants sealing the title. NY Giants 31, New England 21.
Make no mistake. I will be writhing with discomfort for most of this game hoping that my beer and pizza consumption can allow me to focus with ease without vomiting from too much from uncertainty. Even though I have spent the last two weeks looking forward to this Sunday, I know the true nature of how this will feel. These games are a wrenching experience. They are not a fun one. Even though I have my thoughts about how it will go, there is no way to be sure, and I really, honestly, have no idea if at 10 p.m. Sunday night, I will be overjoyed or wanting to hide from the world.
One way or another, I do know this though. It won't be fun, but my elixir is coming on Sunday.