State of the Garden: NOW HIRING!
How lucky are you guys! Two State of the Garden posts in a week!
As you may know, Mike D'Antoni has resigned from his job as head coach of YOUR New York Knickerbockers. He departs approximately half a year short of fulfilling his contract, signed in the summer of 2008.
It would be redundant for me to go over the myriad failures over the last 3 and a half seasons. But although that alone would not stop me from repeating said failures, it's far better to look to the future. After all, we Knicks fans are accustomed to shielding our eyes from the present in hopes of tomorrow's greener pastures.
This is a great moment for the franchise.
Let that sink in.
However, this obviously does not mean that all is well at Two Penn Plaza. The Bockers just barely fit the definition of a team, and the resignation of the brains behind the operation doesn't change that. The Knicks don't defend. They don't rebound. And sometimes, they complete the trifecta by not being able to score, an inexplicable event for a squad "coached" by D'Antoni.
The heart of the matter lies behind closed doors, where, according to recent reports, there is a cancer spreading through the locker room like wildfire. Jeremy Lin and Carmelo Anthony may not like each other. Anthony may prefer to be traded. I may want to kill myself. One could argue that with D'Antoni gone, these problems may only intensify, due to the fact that there is now one less scapegoat for the product displayed on the court.
So why is this a great moment for Knicks basketball?
Mike D'Antoni was signed to a fairly lucrative contract in '08, lured by Dolan to bring the fast-paced offense from Phoenix to the Apple. D'Antoni's tag-team partner was former general manager Donnie Walsh, known for assembling a would-be title contender in Indiana, were it not for that one night in Auburn Hills. In Walsh's introductory press conference, Dolan gazed over at his new employees and said, "whatever it takes."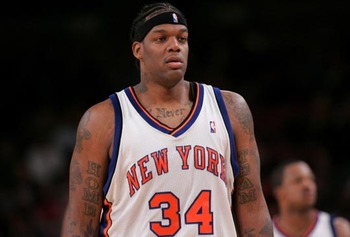 Curry stole our happiness, in addition to the $50MM.
What happened after that was a slow-moving process to building a winner. D'Antoni did one hell of a job in Years 1 and 2, getting quality minutes from players who are currently clutching onto their NBA lives with a vice grip (see Duhon, Chris). He gave us an entertaining brand of basketball while Walsh cut the fat literally (Eddy Curry) and figuratively (Eddy Curry). All holdovers from the Isiah Thomas era, including Stephon Marbury, Zach Randolph, and Jamal Crawford, were shipped out to prepare for signing LeBron James. While the organization remained irrelevant in the eyes of its own city, die-hards like you and me patiently waited for July 1, 2010, the first day when the heralded free agent class could sign with new teams.
Bron Bron didn't come, but Amar'e Stoudemire did. And while many people point to STAT's history with D'Antoni in Phoenix, it was MDA's ability to do more with less in Years 1 and 2 that cemented Stoudemire's signature on a maximum contract to play in New York. After Stoudemire came Raymond Felton, the emergence of homegrown talent with Danilo Gallinari and Wilson Chandler, Carmelo Anthony, Chauncey Billups, and finally Tyson Chandler. While Stoudemire deserves the lion's share of the credit for making the Knicks a marquee attraction once again, D'Antoni's contribution is not lost, even on a hater like me.
He still had to go, for all the reasons in my previous posts, like his unwillingness to teach or even encourage defense as the most important part of the game. But his departure was necessary moreso for what went on behind the scenes. Recent reports detail D'Antoni having a penchant for relaying instructions meant for Anthony through other players. They also mention that some of the players agree that Anthony's style of play does not fit within the grand scheme of a spacing offense, but that D'Antoni would never question Melo about it to his face. Apparently, we have time-traveled back to high school, where passive-aggressiveness is king and drama actually becomes more dramatic.
Championship teams are built on shared sacrifice. Even in today's era, where many (including this guy) feel that superstars are essential to winning the Larry O'Brien trophy, the sum must still be greater than its parts. Anthony deserves most of the criticism thrown his way for the manner in which he has handled adversity. The rest of the players deserve criticism for acting like a team only when it's easy to do so. But Mike D'Antoni is not free from blame either. If you read the last paragraph, you can surmise that what I was trying to tell you guys is that MDA doesn't possess the testicles required to lead grown men towards the pursuit of a title. If he's not willing to face the music, then, for everybody's sake, it's better that we start turning the volume down sooner rather than later.