State of the Garden: Linsanity
Karate punch!
A big reason why there are a few Mike D'Antoni supporters to this day was that the Knicks didn't have an attacking point guard since Raymond Felton left town in the Carmelo Anthony trade. And after the past two games, MDA has a smile so big on his face, you'd think that Steve Nash had demanded a trade to the Apple. For the last half-week, all is good in Bocker Nation. Jeremy Lin has risen from 12th man to New York's best quarterback.
(Kidding.)
If you've read my stuff before, this is the part where I transition to telling you that things aren't as happy-go-lucky as they appear. But let's face the facts: I'm as Linsane as anybody else in these parts, if not moreso. (Can't you see the resemblance?) Against the cross-town rival Nets, Lin came off the bench and legitimately outplayed superstar point guard Deron Williams, netting 25 points on 10-19 shooting, with 7 assists, 5 rebounds, and 2 steals in 36 minutes. The minutes, points, assists, and rebounds were all career highs. Last night, the former Harvard standout eclipsed that performance in his first NBA start. When the Knicks won the jumpball, the crowd was silent…until Lin received the ball from Anthony. Standing O. As Mike Breen so eloquently put it, his spirit has lifted the team, the crowd, and the city (well, the non-Giants fans, who NEED uplifting.) 28 more points at a 10-17 clip, and 8 more assists, in 44 minutes = 3 new career highs.
The final number is the most important: 44 minutes. As I've mentioned before, these aren't your average 44 minutes, where you can take a breather by hiding on defense or throwing some stand-still passes on offense. These are 44 minutes in a D'Antoni offense, as an attacking point guard, while guarding the opposing PG in this relatively new, no-hand-check era of NBA basketball. Anyone who watched the game on TV last night could see that, save for the momentary adrenaline rushes, Lin was dead tired by the 3rd quarter. And what happens when you get tired? You make mental errors. Lin eclipsed a 4th career statistic last night with 8 turnovers. While beating a decent Utah Jazz team with Amar'e grieving in Florida, Melo hurting his groin, and Tyson in foul trouble all night is nothing short of remarkable, it's important to take a step back and see what the future holds for the New York Jeremy Lins.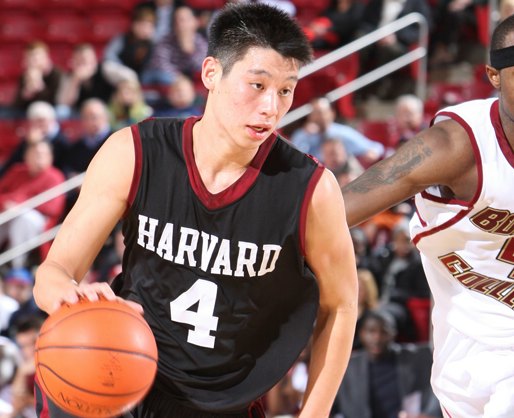 The most wonderful part of this kid's game is his astoundingly high basketball IQ. He doesn't possess the athleticism of Iman Shumpert or Toney Douglas, nor does he possess the long-range capabilities of Anthony or Steve Novak (whose brilliant performance last night was overshadowed by the man of the hour). But he's just so darn smart. He runs the pick and roll to near perfection, attacking the big man on a switch, throwing picture perfect lobs to the screener when the opposing guard gets lazy, and occasionally shows some flash by splitting traps and double teams. He keeps his head up, rarely picks up his dribble, and maintains his peripheral vision, 3 absolute musts for a point guard at any level. The common go-to is that he's naturally smart because he attended Harvard. But as anyone from the great suburban town of Millburn knows, paying your way to Cambridge, Massachusetts because they want you to play sports for them is not the same as being as intellectually gifted as the rest of the student body (still love you DB). Lin is smart on the basketball court for reasons nobody can truly explain, because basketball IQ is part-nature, part-nurture. Many factors contribute to being able to make sound decisions on the hardwood, and Lin has cultivated his craft to the point where he is a true NBA point guard.
But he's not a perfect player. The first thing I noticed was that he isn't particularly strong on the dribble. Although he uses a nifty hesitation move to create space between him and his defender, there were times when Devin Harris and Deron Williams (both decent on-the-ball defenders, but not elite by any means) nudged him off of his track, enough to spoil the rhythm of D'Antoni's spacing-craved offense. However, I believe he'll improve in this area, especially if MDA is smart enough to stick Shumpert (a gifted on-the-ball defender) on Lin in practice. Then again, with the condensed schedule and Lin's game minutes, who knows how hard practices will be run anyway.
I also noticed that Lin has a tendency to make many decisions while mid-air. This is a Walt Frazier no-no, but more importantly, it is truly reserved for athletic behemoths like Derrick Rose, LeBron James, and Dwyane Wade. Many times Lin was very close to traveling violations because of these mid-air passes and field goal attempts, and this will have to be corrected in due time.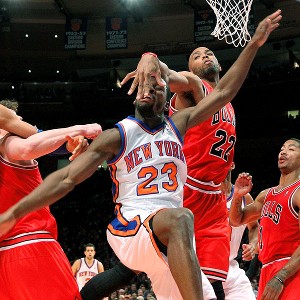 Obviously in need of a confidence boost.
After the game, D'Antoni was asked if he was riding Lin to the ground. D'Antoni's response: "I'm riding him like frickin Secretariat." It's clear that I've been a D'Antoni hater for quite some time, but even I enjoyed his gleeful response. As I go over it in my head, however, I would hope that MDA can use Douglas to give Lin a breather during certain junctures of the game. The obvious benefit is that Lin can rest, but additionally, for all of Douglas' struggles over the past month, I still believe he is a capable backup guard in this league. His confidence is just shot to shreds, and he won't gain it back by sitting on the bench for most of the game. Douglas is a phenomenal teammate, showcased by his willingness to embrace Lin as the new starter. A good 15 minutes from Toney will go a long way towards making this team postseason-worthy.
__________
Jeremy Lin: FIVE MAMBINOS
Anything less would be insulting.