NBA Free Agency Day One Round-up: Kevin Garnett and Gerald Wallace re-sign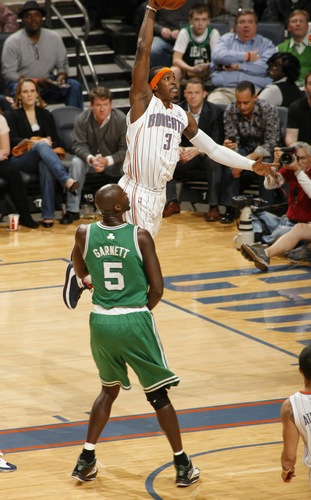 It's been 36 hours since NBA free agency began, and we've already seen enough evidence that the lockout didn't make teams smarten up in terms of managing their funds. When Roy Hibbert, whose career highlights involve two guest appearances – one on the 2012 All-Star roster, and the other on Parks and Recreation – gets offered the same type of money that NBA Champion and incumbent Defensive Player of the Year Tyson Chandler gets, there's definitely something wrong with the way teams are balancing their cap.
But that deal's not done yet. Let's talk about the ones that have been offered, accepted and will be signed as soon as the moratorium ends on July 11th.
Kevin Garnett re-signs with the Boston Celtics, for a reported 3 years, $36 million
There are a few things that this deal is, and a few things that this deal isn't.
First and foremost, this is a good deal for the Celtics. Even at age 36, KG made 2nd Team All-NBA Defense, manned the center position for over half the season and was the second-best player on Boston's roster. His trademark intensity hasn't abated at all in his 17th season, and though he can't operate in the low post as effectively as he used to, his mid-range game and post defense rank as some of the best in the league. At the very least, the Celtics will get $12 million worth of value for next season, perhaps a little less the season after that, and at age 39 and in his 20th season, all bets are off for the third year of the deal. Obviously offering a 3-year pact was the tipping point for getting KG to agree so early in free agency, as other suitors would have come calling for either a higher annual salary or perhaps a bigger role on the team.
Garnett is the leader of the team, regardless of if Rajon Rondo is their franchise player and Paul Pierce is their fourth quarter go-to guy. He led the way in the defensive transformation of the C's five seasons ago, as well as keeping a fiery intimidation that shrinks almost any team in the league in their wake. More than anything else with such a relatively long-term deal, KG, along with coach Doc Rivers, needs to be around to sustain the culture of this team.
What this deal isn't is a "discount" of any type for the Celtics. The team re-signed a 36 year-old with bad knees whose going into his 18th season. Yes, he was healthy for the majority of last season, but what about the two before that? When Boston meekly submitted to Miami one year ago in a five game series (that they would have lost even if Rondo didn't get hurt early – book that), "washed up" and "Kevin Garnett" were two synonymous words. I applaud KG for limping back, working on his body and remaking himself into the all-world defensive player he's always been, but to suggest that he'll stay this healthy for the next three years is foolish. The Celtics paid full price for Garnett's services the next three years. No other team would have offered him that long of a deal, and though a two-year pact of an higher annual value would have been possible, it certainly wouldn't have been for $36 million. If anything, they overpaid.
On KG's part is this a move that codifies his desire to "win"? Surely. The Celtics will still be a contender in the East next year. He wanted to stay a Celtic, play for this coach, these fans and this team. However, this deal blew away everything that anyone else could have offered. Sure, this was a move geared specifically towards "winning", but let's get this straight – KG isn't sacrificing much here.
Gerald Wallace re-signs with the Brooklyn Nets, for a reported 4 years, $40 million
We're not going to discuss the following facts in this little signing analysis: the fact that Gerald Wallace was acquired by a Nets team that was well out of the playoff race at the trade deadline in a move that was done strictly to show Deron Williams that they could bring in another former All-Star. The fact that to acquire Wallace, they'd have to give up their 2012 first-round pick that was only top-3 protected, when they were clearly headed to the lottery. The fact that the Nets brass proclaimed that they didn't mind giving up a potential 4 through 14 pick because they "didn't like anyone besides three guys in the draft". The fact that perhaps another team (say, Orlando) MIGHT like players outside of the top three, and thus the pick could be a trade asset. The fact that before opting out of his previous deal, Gerald Wallace only played 16 games for the New Jersey Nets. The fact that the Nets could have made this very same deal for Wallace without trading for him, and thus losing the sixth pick to Portland.


Now that we've defined what this post isn't going to be about, let's look at the deal. It's not completely outlandish; Gerald Wallace is a very good player. He averaged 14/7/3 last year, shooting 45% from the field and just 30% from the three-point line (though he bumped it up to 37% while playing in Jersey). Wallace is still a human crash test dummy, throwing his body all over the court like he was the black Bryce Harper. His perimeter defense is solid, and his offensive repertoire only improves if he has a true offensive force (like…Dwight Howard) working the lanes, allowing him to cut to the rack or spot up for open jumpers.
The deal is a bit long on years and money for a guy that's about to turn 30. The industry consensus was that he'd get somewhere in the neighborhood of 3 years, $27 million, so not only is the pact a little excessive on length, but also in average annual value. However, the end goal here is obviously to keep Deron Williams in the fold and to eventually attract Dwight Howard, either via trade or free agency next summer. Putting another All-Star, no matter how anonymous, is a great way to do it. Plus, the effort, selflessness and intensity that Wallace plays with is a definite attraction to a team that's trying to obtain another superstar. The Nets were an awful basketball team last year, but I don't see how they don't get better if they have Gerald Wallace on the squad for an entire year. Brooklyn needs talent, plain and simple, and that's what Wallace is. Yes, he's absolutely overpaid, but the Nets are all-in to try and get another star to play alongside Deron Williams, as well as keeping the All-Star point guard himself.