Monday Night RAW review: One week til Summerslam
Preface: Last RAW before Summerslam
RAW kicked off with a match for a change.
I guess I need to get over the disrespect the WWE shows their champions not named John Cena. The champion needs to be introduced LAST. We saw this again in the tag team match later on with Punk coming out before John Cena. They are too set in their ways at this point, their ideology isn't likely to change. 
As for the match, it was good while it lasted. Well, good for Big Show standards. For some reason Daniel Bryan inserted himself into this match, attacking CM Punk with no provocation. I love Daniel Bryan and want him to be on television at all times, but doesn't he have a match with Kane at Summerslam? Kane wasn't even on RAW last night. 

After the match Daniel Bryan attacked CM Punk and put him in the "No lock." Then our all American boy scout John Cena came down the ring to make the save. AJ Lee gave us her best Teddy Long impression and told us that later on we would be getting a tag team match playa.

Big Show is only one of 3 men to hold all active WWE Titles. He is also the only man to have personally closed 3 Waffle Houses#RAWTonight
For those of you that do not know, last week JTG took to Twitter to announce his displeasure with the WWE. He talked about talent not getting paid properly amongst other things. I'm not saying he didn't have a point or he wasn't right in what he said, but as an employee of a publicly traded company, you simply have to know better than to air your grievances on Twitter. Some of you may mention CM Punk's "shoot". Completely different situation. They gave him a microphone, let him air it all out, and as he will tell you, he didn't say anything he hadn't already said to Vince McMahon's face. The JTG situation is different. I'm honestly surprised he wasn't fired. He's not really used on television and lets be honest, he's not that great of an in ring talent anyway. Expect JTG to continue to receive "Miz" treatment…that is if he's even on tv and not given his walking papers. If I was Vince McMahon, I would have JTG work every house show in a 2 on 1 handicap match against Hardcore Holly and Bradshaw. Dude should be grateful he even has a job. 
As for Ryback, his "Feed me more" catch phrase is pretty over with the crowd. Still some Goldberg chants, but not as loud as they've been. Total squash match.
Heath Slater vs R-Truth w/Lil Jimmy
Looks like they ran out of legends to beat up on Heath Slater pretty quickly. R-Truth won a very quick match. I guess Heath Slater will forever be known as "enhancement talent." 
After the match, Darren Young and Titus O'Neil beat up on R-Truth. I'm pretty sure they said Kofi Kingston was on tour overseas. I really do not know if this is true or not, but I don't care enough to look it up. Well at least the tag team championship match at Summerslam is receiving a modicum of build up. I'm looking at you: Kane/Bryan, Intercontinental and US title matches. 
Sin Cara vs Tensai
I'm done with Tensai. I gave him a fair chance, I really did. I wanted to like him. He's clearly a much better wrestler now then when he was known as the guy with the piercings and hairy back….but he's not over… in any capacity.
I think it's fair to say that I have some dislike for the Prototype, John Cena. But even his staunchest detractors can't deny that the guy gets a reaction. Good or bad, it does not matter. The only thing you can't get as a professional wrestler is indifference. The crowd just couldn't really care less when Tensai is in the ring – the guy can't even get "X-pac" heat. The WWE was given a chance to cut ties with Tensai after his Tout indiscretions but chose not to. They obviously see some potential in him, but at this point they are the only ones. 

Sin Cara with the quick victory. Feel free to "future endeavor" his ass as well. After the match Tensai attacked his manager Sakamoto. The silence was deafening. Sometimes it's hard to be a wrestling fan and these types of matches do not make it any easier.  


It's a match between the guy who was better in Japan vs. the guy who was better in Mexico #RAWTonight
Piper's Pit with Chris Jericho
I need to preface this by saying I'm a big fan of everyone that was involved with this segment (minus Vicki Guerrero). But this was hard to watch. I'm glad "Rowdy" Roddy is still collecting WWE paychecks, but I would have been fine with just the triple threat match and no Piper's Pit. I did like how Piper called Miz a movie star. Does he not remember his own foray into the pictures? They Live. Road House anyone?
Y2J vs Dolph Ziggler vs The Miz
This match best exemplified the benefits of making RAW 3 hours. These guys were given the proper amount of time and they delivered big time. GREAT triple threat match. I can't remember the last time a match on free television had me that captivated. I was marking out for every near fall and every time Jericho had the Liontamer applied.
The finish had Ziggler hitting the Zig-Zag from behind on Jericho while he had Miz locked into the Walls of Jericho. Jericho/Ziggler is one match that I am definitely looking forward to on Sunday. 


Layla/Kaitlyn vs Eve/Beth Phoenix
I apologize for complaining about the lack of divas matches. You have my word, never again. Why would the WWE release Kharma? Didn't they just sign Sara Del Ray. How long until I get to see a Royal Butterfly in a WWE ring? The prestigious Butterfly belt deserves better than this. 
Punk/Cena vs Daniel Bryan/Big Show
Punk should be like, "Guys, our match is going on before the contract signing. THIS IS MY ENTIRE POINT." And then they can all be friends.
Not gonna lie, I was booking a plane ticket to New Orleans during this match, so I only caught the end. I liked what I saw. CM Punk and John Cena performing each other's moves was hilarious. After John Cena tagged himself in, Punk took his belt and watched the conclusion of the match from the ramp. Cena with the Attitude Adjustment on Daniel Bryan, his second straight victory over the American Dragon. I would be much more excited about Summerslam if the Big Show wasn't involved in the match.


To think, if @CMPunk would have mastered those five moves years ago, he could have avoided wrestling in all those gyms #RAWTonight

Christian vs Damien Sandow

This match concluded in a way I don't know I've ever seen before. Mid-match, Brodus Clay's music hit which led to Damien Sandow being distracted. Christian tried to pin him and got a 2 count. Then Sandow immediately hit his finisher for the victory. It looks like they're serious about pushing this guy. The burial of Christian is sad, but the build up for a fresh talent like Sandow is exciting. Put a belt on him and have him defend it on a weekly basis.

Contract signing/End segment

Well the contract signing wasn't as painful as it could have been, because, mostly Paul Heyman on the microphone is pure money. I hope that he stays involved in some capacity even after his role with Brock Lesnar runs its course.
We kept being told that HHH was running late all night because of a flight delays. Come on, you want me to believe the COO doesn't fly around in the corporate jet? At the end of the signing, Brock just threw the clipboard at HHH and left. But there was still 15 minutes left in Monday Night RAW so we knew that there was still time for something to happen. 
Backstage, ambulance chaser Paul Heyman intentionally blocked Shawn Michaels' car from exiting the arena. Then Brock Lesnar pulled HBK out of his rental and the WWE cameras went black. During this time either 
Brian Pillman shot Stone Cold
 or 
Rikishi ran someone
 over with his car.
Matt Striker abandoning a big interview because he heard a car horn honk in a parking garage. Great reporting.
Back from commercial Lesnar carries HBK to the ring and then proceeds to give him an F-5. He puts Shawn in the Kimura lock. Heyman informed HHH that Lesnar would break Shawn's arm if he came in the ring. Well Lesnar broke his arm anyway. RAW closes with HHH running in the ring and Lesnar smiling at the top ramp. 
Having HBK involved in the match at Summerslam would have taken the focus away from Lesnar and HHH. Now the only thing left is for HHH to do what's best for the company and put Lesnar over. 
Final Thoughts: The build up to Summerslam has been atrocious. The only matches receiving any attention at all have been HHH/Lesnar, the WWE championship triple threat and Ziggler/Y2J. While it's good to give these matches attention, the rest of the card has largely been ignored and booked on the fly. I'll be watching Summerslam this Sunday, but I won't be paying for it.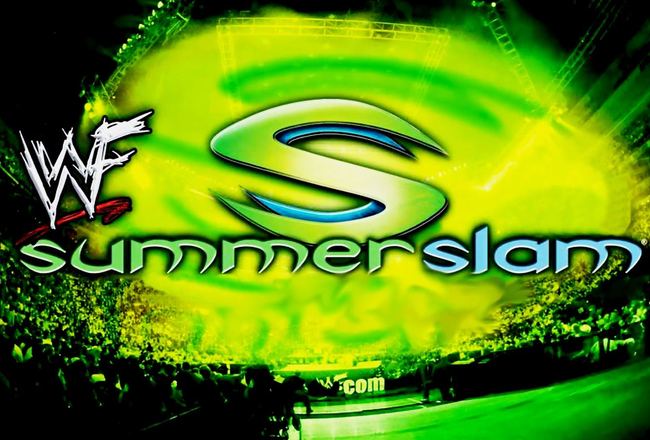 United States championship
Santino vs Antonio Cesaro
This exciting match will be on the Youtube pre-show. What a waste of a match. This US title has zero credibility right now. Take it off Santino and give it to someone like Tyson Kidd or Damien Sandow.
Prediction: Santino victory via cobra strike
Kofi Kingston/R-Truth vs the Prime Time players
There's a good chance this match starts off the PPV. I'm not sure how the firing of AW affects O'Neil and Young here. If AW was still around I think the Prime Time players get the straps here. Without him as a mouth piece, I'm not sure. Damn you Linda McMahon!
Prediction: I still think they give the belts to the Prime Time players here, only because I don't see any other belts changing hands. 
Intercontinental championship
Miz vs Rey Mysterio Jr
So this match was just randomly added to Summerslam this week with absolutely zero build up. This one is really tough to predict because Rey Mysterio just came back and is getting his "return push." Although he really doesn't have any direction. Miz just won the Intercontinental belt so it's hard to imagine them taking it off of him so early in a match that was announced 6 days before the PPV, but I have a bad feeling about this (also, I hate the WWE creative team). Screw it, I'm predicting they throw Miz under the bus in favor of a returning Mysterio. It's not like Rey Rey will even sniff the main event scene right now and there's nothing else for him to do. Also I just looked it up and saw that Summerslam is in California, Rey's home state. He wins the belt in front of a "home" crowd.
Prediction: Rey Mysterio Jr.
Chris Jericho vs Dolph Ziggler
I think this match will get 15-20 minutes and it will deliver big time. I'm predicting a split crowd as well. The PPV atmosphere really brings out the best in heel crowds. Jericho ends his PPV losing streak, getting the victory after Vicki Guererro is banned from ringside.
Prediction: Y2J
Daniel Bryan vs Kane
Talk about a match with ZERO build up. Daniel Bryan is so over right now it doesn't matter if he wins or loses this match. I feel like he wins due to some sort of collusion or Tom-foolery. Also I think Bryan might have some sorta role in the championship match as well.
Prediction: Daniel Bryan
CM Punk (C) vs John Cena vs The Big Show
We'll start with the obvious. I have a better shot at a three way with Kate Upton and Kate Beckinsale than Big Show has at winning this match. Rare long term booking has The Rock challenging the current champion at Royal Rumble. You would think it would be The Rock vs CM Punk. The Rock wins the title at Royal Rumble, cue the media storm Vince McMahon so badly craves. The Rock faces John Cena at Wrestlemania with the title on the line. Cena gets his revenge in the Wrestlemania rematch and wins the title. 
Seriously can't you just hear Michael Cole having an aneurysm, being all Michael Cole-like. "HAS THERE EVER BEEN A WRESTLEMANIA MATCH THIS BIG BEFORE KING? YOU'RE OLD, PEOPLE ARE NERDS, #ROCKCENAMICHAELCOLEBONER, TOUT!!!!! 
Prediction: CM Punk retains
Brock Lesnar vs HHH
Here's what should happen. Lesnar hits the ring and destroys HHH with a mat-based MMA style attack. He breaks his arm with the Kimura lock, bloodies him up beyond recognition and hits 3 F-5's in the middle of the ring for the victory. Then Paul Heyman can get in the ring and say, "By the way I'm still suing you and Stephanie for assault and I think I have a pretty good case since you did it on LIVE TV." He will then proceed to defecate in the middle of the ring and say, "That's for crapping all over the careers of Taz, the Dudleys, Rob Van Dam, Jerry Lynn, Tajiri, Tommy Dreamer, Balls Mahoney, Kid Kash, Al Snow, Mike Awesome, Lance Storm, Little Guido, Super Crazy, Spike Dudley, Rhino, Sabu and Joey Styles!"
Here's what will happen. Brock will ground and pound and take HHH down and punish him. HHH will get to his feet, shake off everything that just happened to him and proceed to look like a huge badass while throwing huge hay makers that render Lesnar stunned and incapacitated. Lesnar goes over here, but only after HHH "gives Brock the fight of his life" and they have Brock resort to cheating by giving HHH a low blow or something. This is the match I'm looking forward to the most and the least. I'm getting mad already.
Prediction: Brock Lesnar (barely)
Thanks for reading. Grad classes start up for me again soon so it's going to be harder and harder to sit through 3 hour episodes of Monday Night RAW and crank out these reviews for you, but I'll do my best.

Also I just found out my favorite WWE fan of all time is on Twitter @WWEMarkOutMan. He's the fan that marked out hard for the Lesnar return and made television doing the Sheamus taunt. Show him some love. 

Until next time, follow me on Twitter @TheRawLibrarian. Sit back, relax and relive the last time The Big Show was relevant…..1999.