MAMBINO's NBA Coach of the Year
Everyone talks about how the criteria for Most Valuable Player in any sports league has such nebulous criteria for its winner. What makes a person more valuable than another? How do you measure "value"? What makes "value" in the first place? Is it raw skill? How much he helps his team win? The intangibles of his leadership? Or is it a combination of all of those answers? But to what extent does each of those factors weigh? The MVP is such a tricky award, and why the debates every year are more mercilessly available than Bobcats front row tickets.
This is actually the award trophy. It looks like Dora the Explorer made it.
However, as murky as the waters of the MVP are, the award for Coach of Year may rival it.
What makes a Coach of the Year? Does it go to the man who best defies expectations? Or does it go to the man that best lives up to expectations? Is it the coach who faces the most in-season adversity, or the one that never allows his team to face it in the first place? I've been watching the NBA for most of my life, and intently for more than a decade, and I still don't know the answer.
You might not care about this award, and rightfully so. After all, the very integrity of it has been irreparably destroyed just by the mere fact that Sam Mitchell, Mike D'Antoni and Mike Dunleavy have the same amount of awards as Gregg Popovich, Phil Jackson and Rick Carlisle (I went on a longer, more detailed rant months ago, which you can check out here). However, that's why MAMBINO is here, my friends. Much like Nickeback restored order to the credibility of modern rock n' roll, your favorite, humble sports blog has come to help inform you the best two choices for the 2012 NBA Coach of the Year. You can't go wrong with either choice, except for the fact that I'm right and BockerKnocker is dead wrong. Check it out!
KOBEsh: The San Antonio Spurs have been left for dead 4 years running. Just a year after their 2007 championship, every prognosticator and critic pronounced the Spurs' window not just closed, but shattered and replaced by a new, hi-def TV. Timmy was too old, Manu was too hurt and despite the fact that he's STILL somehow not even 30 today, that Tony Parker would never be good enough to be the star that made a team a contender. What everyone forgot is that they have the best coach in the league at the helm.


If you gave this award to Gregg Popovich every single year, would anyone have a problem with it? I don't think so. Whether you like him or not, or dismiss the Spurs because of their drab colors, drab superstars or small-town presence, the fact is that Gregg Popovich has been the best coach in the league for over a decade now. 100% true. The Spurs completely overhauled their offense and personnel last season, moving from a slow, half-court oriented offense revolving around Tim Duncan's post presence, to a more up-tempo, fastbreak style attack. Popovich led a team many thought would finish 7th or 8th in the Conference to the best record in the West, and a number 1 seed. Poised to dominate the playoffs with the Lakers in a down year and the Mavericks without a second star to help Dirk, the Spurs faced their biggest match-up nightmare, as the 8th seeded Memphis Grizzlies took a buzzsaw to the Spurs' front line and dispatched them in 6 games.
Coming into 2012 with a hectic, condensed schedule, a shortened training camp and old legs as their primary pieces, everyone predicted the most disastrous results possible for the Spurs (well, except maybe here). Now, here we are, 4 days away from the end of the regular season, and the San Antonio Spurs have the best record in the Western Conference. Again.
That should be enough right there to gift him the award. Pop took a team that most people thought wouldn't even make it through 50 games, let alone standing at the top of the heap after 64. But let's list just three specific reasons:
1. Minute management: At nearly age 36, Tim Duncan is averaging 28 minutes per game. In fact, no player is playing more than 33 minutes per contest on the Spurs roster. Popovich has been able to take his deep team and manage minutes efficiently, so his stars will be rested enough for the playoffs, and yet, guys are getting enough burn to stay sharp.


2. Players coming in and out: Antonio McDyess retired before the season started, TJ Ford retired in the middle of it, Manu Ginobili broke his hand and missed half the season and Boris Diaw and Stephen Jackson have played less than 40 games combined with their new squad. Somehow, Popovich has managed to keep his team playing steady basketball despite changing 6 major pieces (including the traded Richard Jefferson) in season.


3. Working in Danny Green and Kawhi Leonard: While Green isn't technically a rookie, playing in only 200 minute of garbage time over 2 seasons really doesn't warrant a lot of NBA experience. Popovich has been able to depend heavily on both young players in important situations, giving them the confidence and will to succeed, while in other places they might not have.
In yet another year of overhaul for the team, the Spurs are thriving, rolling and moving along as if they've been playing together for half a decade. Popvich doesn't just deserve this award, he is the award. Not the ugly trophy that looks like it was made out of butt mud. The award itself. NBA Coach of the Year.
Tom Thibodeau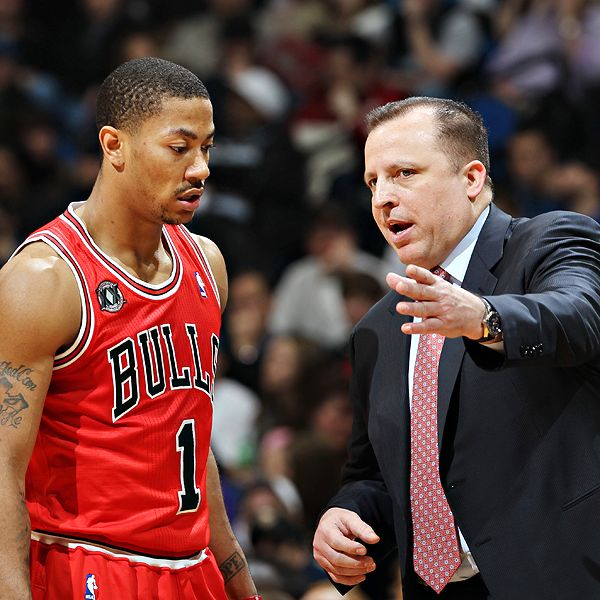 BockerKnocker: Derrick Rose has missed 26 games in this shortened season. If you were to tell head coach Tom Thibodeau that he would be without the services of the league's reigning Most Valuable Player, he couldn't have possibly expected to be on the verge of clinching the #1 seed the East, and also quite possibly the best record overall. This isn't baseball, where home-field is decided by an exhibition game. This isn't hockey, where 8-seeds seemingly beat President's Trophy winners on a normal basis. Only in football and basketball is where playing at home truly matters. Thibs has guided a depleted Bulls roster to an impressive 48-16 record thus far, which includes an absurd 17-9 record in games that D-Rose has missed.
But Rose wasn't the only starter to spend some time on the shelf this year. Richard Hamilton, signed via free agency this past summer, has missed 37 games of his own. Luol Deng, an All-Star for the first time this year, has been inactive for 11 more. A fully healthy squad played its 14th game together yesterday, defeating the defending champion Mavericks. Chicago's A-team pushed their record together to 12-2, and will have the opportunity to reap the benefits in the postseason.
Thibodeau has built this Bulls team on defense and rebounding, and it's the biggest reason why the Bulls have remained dominant while missing their best players. C.J. Watson and the diminutive John Lucas don't bring the offensive firepower that Rose produces on a nightly basis, but the defense hasn't missed a beat when they're in the game. Take a look at how Thibodeau's half-court trap is one of the key components to making Chicago have the best defense in all of basketball:
And to think, the head coach has been giving instructions with that incredibly hoarse voice of his for almost two years now! He gets some BockerKnocker bonus points just for still being able to speak:
So many times will an assistant coach get a crack at a head gig and fail miserably. Only six coaches have won this award multiple times, and none of those guys have won it 2 years in a row. If history repeats itself, and a coach like Popovich takes home the crown, it won't be too much of an oversight. But for everything that KOBEsh tells you, Thibodeau won't be an undeserving choice for Coach of the Year.
__________
Follow The Great Mambino, KOBEsh, and BockerKnocker on Twitter!