MAMBINO's Eastern Conference Finals Preview
The Miami Heat versus the Boston Celtics. As soon as Derrick Rose got hurt five weeks ago, this is the matchup we all saw coming. And it is going to get messy.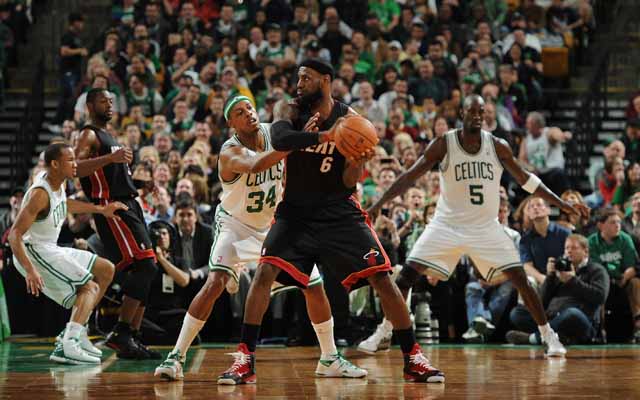 Even in missing starting power forward Chris Bosh and no one on the Miami roster peaking right now save for LeBron James and Dwyane Wade, essentially every person whose opinion you care about is picking the Heat to win this series. I suppose this more than anything is a testament to the greatness of South Beach's best two players, who are playing at an otherwordly level right now.
Barring an unforseen injury to the Heat's two remaining All-Stars, this series will be a romp. In our series preview, we'll let you know why, but also, what the hell Boston would have to do to squeak out the massive upset. The King, our resident Celtics fan, will try to decode a method to the madness that would be a Boston series win. Here we go:

MIAMI in 5 games
Is this more a question of "how Miami will win this series" or "why Boston is at a serious disadvantage"? I think it's a bit of both, to be honest.

Without Chris Bosh, the supporting cast on this Miami roster is not only worse than last year's runnner-ups, but one of the worst in the entire playoffs. Wing players Shane Battier and Mike Miller are shooting 27% and 37% respectively from the field. Udonis Haslem has slipped to just 5 points and 5 rebounds in 18 minutes, down from 6 and 7 in the regular season. Joel Anthony, playing 23 minutes a game has watched his usually strong post defense slip a bit, while only putting in 4 points and 4 boards. Mario Chalmers is the only saving grace of the role players, playing confidently and throwing down a 11/4/3 line. Going forward, I find it hard to believe that these guys will give the Heat much more than this. I'd expect performances equal or slightly better than what they've been doing the first two rounds.
I bring all this up to illustrate how unbelievable Dwyane Wade and LeBron James are. Bron's 29/9/6 nightly stat line, as well as Wade's 24/4/3, are elevating an weak Miami team from D-League throwaways to potential Finalists. They are the crux to both the Heat defensive scheme and offensive attack, changing the game with their incredible energy and skill on both sides of the floor. Night in and night out, these two guys have to play like the two best players in the league to win ball games. Luckily for Miami, they've been just that in victories. Bad games, like Game 3 in Indiana, mean losses. It's a very, very simple formula.
I cannot possibly overstate the importance towards LeBron and Wade having great games, every game for the Heat to win. Their supporting players are giving them next to nothing and I see no reason for that to change. For as much as everyone gets on both these guys for being such weak characters, they've risen to the challenge that the Heat's roster has presented them with. Every coach knows that they have to stop these guys to win the game. It's just that no one can do it. Amazing.

Thus, a game Boston Celtics team could actually have a decently easy time of beating up on a limited Heat squad that leans so much on trascendant performances from just two guys. However, Avery Bradley (their best perimeter defender) is out for the rest of the postseason with a shoulder injury and stars Ray Allen and Paul Pierce are playing with only one leg a piece. The C's have suffered so many personnel losses over the season that even a win over an extremely limited Sixers team took seven games. This isn't really an x's and o'x analysis: the simple truth is that the Celtics just don't have enough guys, and the ones they have are hurt. Even when individual offensive performances couldn't bring them to victory, an unstoppable team defense could. However, with everyone as hurt as they are, the Celtics just can't do that anymore.
A five game series victory is completely contingent on Bron and Wade continuing their all-world performances. Obviously, MAMBINO thinks they're more than capable of doing so and taking advantage of the Walking Dead from New England.
What would have to go right for Boston to win it:
(Editor's note: Even The King is aware that this series should be over in 5 games. He knows that every single one of these reasons for a Boston victory are implausible, if not damn near impossible.  In fact, you could simply read this as a continuation of the "MIAIMI in 5 games" portion. That's how hard this would be for the Celtics.)
Ray gets his stroke back – Out of the wish list of things that needs to go right for Boston, this is the most plausible one. With his ankles in such bad shape, there's no way Ray is going to avoid being a liability on the defensive end.  On the offensive end however, he can be an asset. To be an offensive force, he needs to start shooting well, something he hasn't done the whole playoffs. At first glance, it's easy to blame Ray's injuries for his shooting woes.  However, it's not as if he's having trouble elevating over defenders. He's missing wide open shots, which is more likely the result of having too much time off, not the ankle injuries.  If Ray can find his stroke this series, Boston becomes a lot more dangerous on offense.
Garnett doesn't get tired – Kevin Garnett has shown two things these playoffs: first, he's still one of the best players in the league in dominating long stretches both offensively and defensively. His performance this playoff season has been nothing short of extraordinary. 
But the second thing KG has shown is that no one can beat Father Time. There have been times in these playoffs, in particular Game 6 against the Sixers, where Garnett has looked old and tired. If Boston is going to beat Miami, this can't happen. He's a big mismatch for the Heat, as he proved during their regular season matchups. Boston really needs to exploit Garnett's against whoever he's playing for most, if not all seven of the games this series. Unfortunately since there is only one rest day in between each game, there's going to be a few games where Garnett just doesn't have the legs to effectively take advantage of Miami'sbelow-average post players. 
Rondo hits the jumper – When Rondo is hitting his jumper, as he was during the fourth quarter of game seven against Phladelphia, he's unstoppable. Of course, if he did that consistently, he'd be battling Lebron James and Kevin Durant for the MVP. There have been the rare 2-3 game stretches where Rondo shoots like Ray Allen or Paul Pierce, but those stretches are few and far between.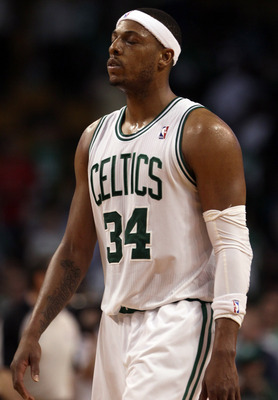 Paul Pierce becomes fully healthy – Since injuring his knee in the Celtics first round series, Paul Pierce has just not looked the same. Having a healthy and effective Pierce is a necessity for Boston to succeed against Miami for multiple reasons.  First, Pierce is the best offensive player for the Celtics. With his knees in bad shape, they can't depend on him to carry the offensive load as they often do. Second, Pierce being healthy and effective on offense forces Lebron James, who matches up with Pierce, to expend more energy on defense. For someone like Lebron who plays 40+ minutes a game, the effect of having to man up against one of the league's better offensive players cannot beoverstated. Third, Pierce has played remarkably good defense on Lebron over the last few years.  If he's healthy, it will be impossible for Lebron to dominate to the game to the extent he did against both New York and Indiana.
Dwayne Wade stinks – With Ray Allen barely able to walk and star defender Avery Bradley missing, Dwayne Wade is going to have some serious mismatches in this series. If he plays as he usually does, Wade will likely be too much for the Celts to handle. However, if his performance suffers due to his knee injury or otherwise, the series could get a lot more interesting.