LA Kings Bandwagon Fan Crash Course Educator
As the Lakers unceremoniously went down 3-1 in their eventual loss to the Oklahoma City Thunder, I quickly realized that like a lover scorned by a hateful broad, I'd have to find a new steed to hitch my wagons to for a sweet sweet rebound.
Enter YOUR…Los Angeles Kings.
I'm sure I'm not the only one. Los Angeles, like Boston, Philly or Miami, is a frontrunners town. Whichever of our teams that is in the driver's seat, that's the one we'll readily and happily attach our interest to, regardless of whether we've watched a game this season, know the best player's name or hell, even the rules of the sport. This is just how it is. Don't blame me. I didn't found the city.
Fellow Lakers fans (and even some of you Clippers refugees that may have found your way over to this glorious stink-free blog), I realize the spot we're in. You want to keep the adrenaline going by rooting for a team in the playoffs, but yet, you don't know a damn thing about hockey. Or maybe you know a bit, but you've been preoccupied with checking out Kenneth Fareid's offensive rebound rate and the progress of the Kings wasn't on the front burner. Look, I get it. That's why we're here.
I've exchanged a series of e-mails with MAMBINO ace hockey writer Pucklius, asking questions inn order that us bandwagon Kings fans might get a crash course in puck education. Let's be honest; at the end of this, no one is going to mistake you for a pedigreed NHL fan born in the swamps of Calgary. However, you MIGHT just learn enough to have a passable conversation about possibly the only champions in LA this June. Onward!


For us casual hockey fans, it's just "pretty damn cool" to see the Los Angeles Kings get so far into the playoffs. But from a hockey-head's perspective, how unlikely is it that the Kings made it this far?
Well, I think you would definitely call it unlikely for several reasons, most notably that the Kings were the eighth seed and they had to face the Vancouver Canucks in the first round, but an eighth seed doing this well in the playoffs is not entirely unheard of. For one thing, the Stanley Cup Playoffs are a long, exhausting and at times random slog. That means you're going to see upsets and sometimes the curious bounce of the puck in an overtime game will determine who is moving on and who isn't. In 2006 the Edmonton Oilers were the 14th of 16 teams in the field and they got to Game 7 of the Stanley Cup Final before losing to Carolina. You also need to take into account who is playing well heading into the postseason. If a team has had a great year and earned a high seed but struggled down the stretch, there's no guarantee they're going to play that well when more is on the line. Turning on a switch is difficult.
You also have to account for injuries and matchups. The Kings have gotten lucky with both this season. Vancouver was without Daniel Sedin, which was absolutely debilitating for its offense. That was a team that also, despite winning another Presidents' Trophy this season, went all the way to Game 7 of the Stanley Cup Final a year ago. That means the Canucks might have played as many as 20 more games than their opponent in the last calendar year with a far shorter offseason. That kind of exhaustion will have an impact sooner or later. If you look at the Islanders of the early 80s, they won 19 consecutive playoff series, which is patently absurd. They had four Cups in a row, but when they reached the Final in a fifth season they lost to the Oilers of Gretzky and Messier. The Oilers were obscenely talented, but the Islanders were still arguably a better team at that point. They had essentially played five seasons in four years because of all those playoff games, though. It catches up to you.
The Kings also got matchups against teams that play great defensively but really can't score in bunches (St. Louis and Phoenix). L.A. does both right now and that certainly favored them. Also, it's worth noting that the Pacific Division was a horse race with a photo finish. The Coyotes only finished with two more points than the Kings. One more win and L.A. might have been the third seed, in which case we're not talking about this being a surprise at all. To me the bigger surprise is not that L.A. is winning — no one can doubt their talent — but that L.A. is winning so easily. They played 14 games in the first three rounds, just two more than the absolute minimum number of wins a team needs to reach the Final. The Rangers and Devils, by comparison, played 14 and 12 games, respectively just to reach the Conference Finals. What Los Angeles has done in this postseason is really stunning, not just for the Kings, but for anyone.
Excellent lead-in to my next question, which is how could a team that finished second to last in scoring suddenly start scoring (what appears to be) easily, and often?
When you look at the Kings' lineup the bigger mystery is less how are they scoring now than why weren't they scoring during the season. This is a team with a lineup that was pretty loaded at the front and the back. Anze Kopitar has been a pretty electric scorer for the past few seasons, Dustin Brown has been a dependable man to create goals near the net and Drew Doughty is among the very best at quarterbacking an offense from the blue line. The fact that this team was among the worst offensive teams in the League this season is pretty mind-boggling and seems more to have been a, as Peter Gibbons might say, "problem of motivation" rather than actual skill or ability.
The surprising lack of offense during the season is one of the reasons L.A. was struggling for the first three quarters of the year — and why Terry Murray was fired as coach during the season. When that happened, GM Dean Lombardi made it very clear to the players that firing Murray was not something he wanted to do and that the players bore most of the responsibility for it. This is a team that was supposed to be scoring all season, particularly when you add in a guy with offensive skills like Jeff Carter, whom they acquired near the trading deadline.
As for why this team suddenly managed to find its offensive groove at the right time is anyone's guess, but this is what they were supposed to be delivering all season.
Very interesting point. As per usual (maybe just in my life, generally), I try to equate things I don't understand to basketball or baseball. The thought of a team turning on it's scoring touch in the postseason seems abnormal to me. Even a team "getting hot" doesn't necessarily connotate a seemingly completely different look for an underachieving regular season team. The closest comparison I can think of is the 2010 SF Giants that couldn't score runs all season, and then all of the sudden Cody Ross looks more like Josh Hamilton than Josh Hamilton did.
Also, I don't know a lot about the particulars of a power play, but watching the game, it seems like an easy formula – you have one more guy than the other team, and it should be easy to score. If the Kings' offense is clicking so well 5 on 5, why can't they score when the advantage tilts towards them on the power play?
Sometimes there are questions that even the most brilliant minds can't answer. The Kings have the second worst power play percentage of the 16 teams that made the field this postseason, but there are a number of variables to consider. Many teams school themselves aggressively on their penalty kill and when the matchups aren't simply five-on-five the dynamics change. Defensive strategies vary at even strength but when you're on the kill it's impossible to cover man for man and so the role of a penalty killer often becomes geared toward occupying space and disrupting shooting lanes. This means a lot of standing in gaps and reaching your stick out to clog the defensive zone and make passes difficult. It's also key to note that most power play strategy revolves around hockey's equivalent of a half-court offense. Teams will settle into their basic set with two or three men up at the point passing back and forth until the forwards cycling down below find a gap at which time you'll move it quickly to one of them for a one-timer or hope someone in front of the net manages to deflect a long shot from the point or screen the goaltender.
That's not the same thing as a five-on-five offense and it also inhibits a faster team's ability to take advantage of its speed through the neutral zone or of a defense caught off guard on a broken play.  Is that the reason the Kings' power play isn't working as well as their even-strength offense? I'm not sure, but it's probably a factor that can't be discounted. One also has to consider a sheer statistical fluke as a result of a small sample size or just that some teams are simply better at certain modes of game play than others. Take a look at the Devils for instance. New Jersey's penalty kill was the best of the modern era during the regular season and in the first round it struggled mightily against Florida. This is a penalty killing unit that was so good during the regular season that New Jersey at one point had scored a goal in a higher percentage of shorthanded opportunities than it did with the extra man.
Success in one type of game play does not necessarily equal success in another type of game play. You're seeing that now with L.A., but for a team that has scored this well at even strength so far, it may not really matter.
Is Dustin Brown actually the world-killer that he looks like right now? To a hockey novice, he looks damn near unstoppable this postseason, and feels like he should be a household name.
Dustin Brown's performance this postseason is no fluke at all. He may not perform like this over the course of an entire 82 game season, but it's not an aberration either. This is just a great player raising his level of play to match the stakes. Brown suffers from two major handicaps as a hockey player in that he's a) in a nontraditional hockey media market and b) he's American. Those two things have robbed him of the appropriate press he would be getting if he were in a major hockey market or a native of the Toronto suburbs. In that way he's very similar to Zach Parise, who, while he has slightly more renown in hockey circles than Brown, is also not the star he would be were he a Maple Leafs forward from Mississauga, Ontario. Still anyone who knows hockey and watches Brown play knows that he is among the best two-way players in the world. He is a man who can score by powering his way to the front of the net, he can backcheck and cancel out an opposition forward with the best of them and he can lay the big hit when needed — and does so more often than not. Over the past five or six years Brown has developed his scoring touch enough to become a perennial 25-30 goal scorer while providing a physical presence and becoming a plus player at both ends of the ice.
If you root for the Kings and you haven't been paying attention to Dustin Brown until now you're late to the party — but you are at the right party. He's the real deal.
IF the Kings are able to win the Cup (we'll get to that in a sec), where would this rank in terms of historical significance? For example, if your beloved Mets were to come from behind and take the title this year, that type of run would be one of the greatest of all-time considering the obstacles they faced. And has anyone ever beaten the 1-2-3 teams in the conference before?
It's kind of hard to pinpoint what kind of a miracle run this would be. As I've said earlier, this wouldn't be the first time a team put together a miracle run to win a Stanley Cup when it wasn't expected of them, particularly considering a fairly regular string of low-seeded teams in the Final over the last decade or so such as the 2003 Mighty Ducks, the 2006 Oilers or the 2010 Flyers. The most unexpected Cup run for my money that I can think of is probably the 1993 Montreal Canadiens, who finished in third place in their division and then marched to a Stanley Cup (against the Kings, coincidentally) by virtue of 10 wins in overtime. That's a different kind of edge-of-your-seat title run than the one the Kings are putting together, which has been built by an unexpected run of dominance. Tuesday night's Western Conference clincher was just the second time L.A. has had to deal with overtime this postseason.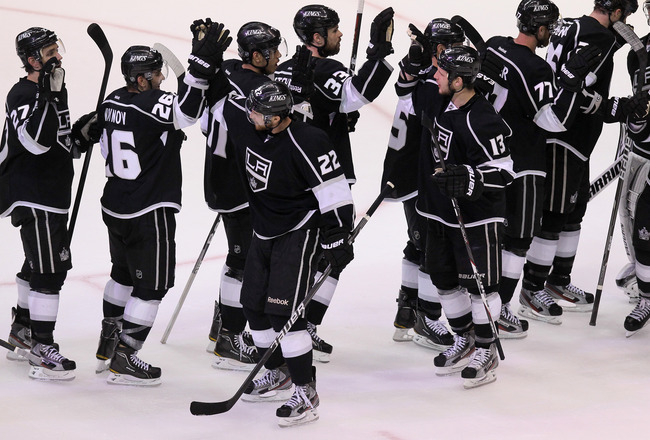 There is certainly an argument to be made that this would amount to one of the more unlikely championship runs ever in sports history — if not the most — based purely on seeding, however. While anyone who watched the regular season or looks at the standings knows that there was not much difference between the Kings finishing eighth and finishing third, and L.A. isn't the first No. 8 seed to reach the Stanley Cup Final, they would be the lowest seeded Stanley Cup champion since the NHL entered into this postseason format in 1994, and by a hefty margin at that. Right now that honor belongs to the fifth-seeded 1995 New Jersey Devils. The Kings are the first team ever to beat the No. 1, 2 and 3 seeded teams in order on their way to the Final, but not the first to do it in general. The 2004 Calgary Flames — also coached by Darryl Sutter, coincidentally — also turned the trick, though as the 6th seed they did so in a different order. That may not be a great omen for the Kings, though. Calgary took a 3-2 series lead home in the Final before losing Game 6 in double overtime and dropping Game 7 in Tampa Bay. All of this would put this run squarely in the top of the argument for most expected champs in NHL history.
And as for the Mets, a run to the World Series would seem fairly unlikely, but my Amazins woke up this morning with a better record than the Phillies, Angels, Tigers, White Sox, Red Sox and Yankees with a fairly tough schedule in the opening two months, so maybe that's not the surprise you all think it might be. Perhaps a better example might be my Giants, who won a Super Bowl after being five minutes away from seeing their season end in Week 14 at Dallas before going through Green Bay, San Francisco and New England to win a championship.
I can talk about that more if you'd like.
Believe it or not, I'll pass.
So let's ask the most important question: Can the Kings win the Cup?
I think the question more people would have to be asking at this point is why can't they — or perhaps why won't they. The Kings have been the most consistently impressive team by far in the postseason, dominating virtually every facet of the game against every team they play. There are a few warning signs, however. In the Eastern Conference teams tend to play a much tighter style with far more checking. It could be difficult for the Kings to find the same space on the ice that they have against Western Conference teams, though they dealt with it fairly well against St. Louis, which was notoriously tough to get ice against this season.
The Kings at this point have to be considered the favorite to take the Cup home this season, but the matchup will be pivotal. If the Rangers can manage to survive New Jersey — and considering the level of play they've shown this series, survive is the operative word — I suspect the Kings will be able to handle them fairly easily. New York has had circles skated around it for most of this series and the Rangers' offense has been significantly lacking this postseason, as they've scored four goals just once all playoffs and had a grand total of three even strength goals that weren't on an empty net this series before breaking out in Game 5 last night. If New York reaches the Final, Henrik Lundqvist will have to put on one of the great goaltending performances of all time for the Rangers to win the series — though I stress that he is one of the few capable of it. The Devils in my mind provide a much stiffer challenge both because they can score and because their aggressive forecheck will keep the Kings busy. The Rangers sit back and wait to disrupt you in their own zone, which could play into L.A.'s favor in that defense won't be as much of a concern. The Devils will bring the play to you in your own zone and aggressively push the puck, which could be a challenge, albeit an entertaining one.
The only other thing that could be a concern is that the Kings are just the third team in history to start their first three playoff series with 3-0 leads. The other two are the 1995 Detroit Red Wings and the 2008 Pittsburgh Penguins, who share in common that neither of them won the Stanley Cup. The sample size is too small of course to know if it's a statistical anomaly or indicative of something unquantifiable. The Wings got swept by New Jersey in that Final series while the Penguins lost the first two games to Detroit in 2008. Both of those starts were completely different from what they had experienced prior in the playoffs and one could argue that they didn't know what to do once they felt some actual adversity, but that would be total speculation. The Stanley Cup Final this year could reveal if that's an outlier or a trend, but I wouldn't bet money against the Kings beating the odds on that statistic. They've been doing it all postseason already.