Instant Trade Analysis: Steve Nash to YOUR…Los Angeles Lakers
Los Angeles Lakers get: PG Steve Nash, 3 years, $27 million (absorbed through their $9 million dollar trade exception from the Lamar Odom deal)
Phoenix Suns get: 2013 & 2015 first round draft picks, 2013 & 2014 second round draft picks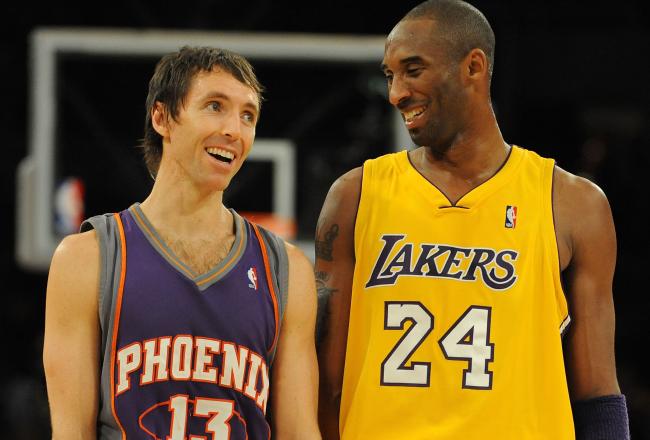 In a completely shocking turn of events, the Los Angeles Lakers acquired Steve Nash from Phoenix tonight for a bevy of draft picks. For months Nash had been saying not only that it would be difficult to play for his playoff rival Lakers, but made serious overtures towards playing for the New York Knicks, Toronto Raptors, Dallas Mavericks and Brooklyn Nets. In fact, I wrote off an acquisition of Nash as a pipe dream in a free agency column for Silver Screen & Roll. However, after a phone call with Kobe Bryant, Phoenix's ex-point guard changed his tune, coming to LA in search of his first ring in a city where his addition would mean they won a chip. And indeed it would.
As for the trade itself…the Lakers just got Steve F'n Nash. Even at age 38, he's in peak physical condition, showing zero signs of wear and tear considering the minutes and intense playoff battles he's waged over the past eight years in the desert. For years, the Lakers have lacked a pass-first point guard who was able to make the other players around him better. The triangle offense was the most efficient distributor for open shots. With Phil Jackson and that system gone, we've all seen the results of how the lack of a passer affects the Lakers offense – despite the speedy Ramon Sessions, Kobe Bryant and one of the best passing bigs in the league in Pau Gasol, the Show very rarely was able to get an easy shot and ranked amongst the worst in the league in transition buckets. Mike Brown's bread and butter was throwing the ball to Kobe, Pau or Bynum in the post, and hoping that their immense skills could simply overwhelm an opposing defense, rather than use ball movement to get open looks.

With Nash in the fold, this all changes. The Lakers get arguably their second-best point guard ever, next to the irrespressible Magic Johnson. Fast-break baskets, once at a premium, will now be available in gobs. LA will finally be able to run the floor with a team general whose execution is one of the greatest ever. Players like Josh McRoberts, Matt Barnes (Nash's teammate in 2008), Steve Blake and Andrew Bynum should see their statistic spike up like Kobe rising to the rack in 2004, while Pau Gasol could average a nightly triple-double with a passing savant like Nash on his side.
Perhaps more importantly, the team will be completely reinvigorated with this movement. Along with Kobe, Chris Paul and Kevin Garnett, there are only a few players in the league that when the game is on the line in the fourth, an intensity washes over their faces; one that screams "we are NOT losing this effing game". Steve Nash is one of them. The Lakers have looked lazy and listless after their liberating win over the Celtics in 2010, and needed a severe jolt of energy. This might just be it. I've said time and time again that LA certainly has the pieces for another title, but needed someone – a coaching staff, a player, something – to bring it out of them. Nash is more than just that. He might be the key to #17.
Now, for the downside. Unfortunately, they're plentiful.
Despite the trade for a Hall of Fame point guard, those are a lot of future draft picks. Yes, they'll probably be in the late-twenties, but as we've seen with a much more judicious luxury tax, assets like draft selections are now an extremely valuable component to acquiring players.
Let's not forget that Steve Nash is 38 years old. Yes, he's been incredibly healthy for the past few years, but he's also had an all-world training staff in Phoenix keeping him fit. I'm not suggesting that Gary Vitti and his crew aren't anything besides world-class, but there's certainly something to the fact that the Suns medical staff has seemed to stave off the effects of time on Nash's body.
Also, Nash certainly doesn't cure one the biggest ills that's affected the Lakers seemingly forever: they have an awful perimeter defense and cannot lock down quick guards. Steve Nash is many things, but a premiere wing defender he is not. However, this negative might be a non-starter; opposing teams have been attacking the paint at will for years knowing that there was little danger of the Lakers getting out and running if they missed a bucket. Not the case anymore with rebounders like Gasol, Bynum and McRoberts (who might be of the three best boarders Nash has EVER played with), who will make opponents pay for a failed drive.
Finally, this might not be the last domino to fall. Nash will be signed to a three year deal at $9 million per season. The Lakers have been seemingly hell-bent on getting under the luxury tax, so much so that they gave away Lamar Odom for nothing more than a draft pick last December. They eventually used that trade exception that no one thought they would ever employ, but then again, they never thought that a two-time MVP would fall into their laps. I wouldn't at all be surprised to see Gasol get traded in the ensuing days to get a couple of shooters and bench guys that will be able to make millions of dollars off of Nash's philantropic passing. Gasol could also be a part of a bigger deal involving Andrew Bynum, Dwight Howard and other players that would be brought in to complement Nash and Kobe better. Those thoughts though are for another day.
But let's not be negative nellies all night. Steve Nash is a LAKER. My God. Going into the 2012-2013 season, the Show was a fringe contender, at best. Now, alongside the Thunder, the Lakers are one of the three or four teams expected to still be playing June.
Months ago for our friends at Silver Screen & Roll, I wrote that we all need to believe in Mitch Kupchak. Year after year, the Lakers GM has delivered with a team that's had at least a .621 winning percentage every year since 2008. He turned Kwame Brown into Pau Gasol, Vladdy Radmanovic into Shannon Brown and Brian Cook into Trevor Ariza. He re-signed Kobe Bryant after a very serious overture towards the Los Angeles Clippers and drafted 2nd Team All-NBAer Andrew Bynum. He was able to recruit Derek Fisher and Ron World Peace. And now this. Titles aren't won in July, but just this acquisition by itself lends to the notion that not only is Mitch Kupchak one of the best GMs in the league, but embattled VP of Basketball Operations Jim Buss is amongst the best in a front office capacity.
I said before that God loves the Lakers. Well, so does America. Happy Fourth of July everyone.