Fifteen Random 2013 WWE Predictions
Wrestlemania 29 is in our rear view mirror. That can only mean one thing…the Road to Wrestlemania 30 has begun! I haven't written anything in a while and RAW has been uninspiring as of late, so we'll change gears. I am going to provide you guys with fifteen Bleacher Report MAMBINO-style predictions for the upcoming year. Some will be obvious, others ridiculous. Let's get weird.

1. We have not seen the last of Stan Stansky and Arthur Rosenberg.

I haven't seen a heel tag team work a crowd into that much of a frenzy since the Dudley Boyz at Heatwave '98. The WWE always has a need for "enhancement talent" and these two jobbers should provide fodder for superstars for years to come. Just remember that "two is better than one." Even Dolph Ziggler would be allowed to get a clean victory over this rhyming tandem.

2. Seth Rollins and Dean Ambrose will win the tag straps.

This is one of the more obvious predictions. To be fair, I started writing this column last week before they held up the tag straps on Smackdown. I'm just really busy….or lazy (it's definitely one of the two), so I was unable to get this piece up in time.  Having wrestled the main event two weeks ago against the Undertaker, this past week's main event against Kane, and this week's match up with Daniel Bryan, it appears as though the WWE has chosen Dean Ambrose as their favorite Shield member. Back to back matches against the Brothers of Destruction is a big show of faith in Ambrose by the creative team.
3. Fandango will win the Intercontinental championship
Gotta give credit to the Texas Rattlesnake on this one. And he's absolutely right. The WWE will do what they always do: take something that happened organically and shove it down our throats. Nothing but dollar signs in Vince's eyes. Want proof? Purchase the new Fandango t-shirts over at WWE Shopzone. Fandango got over at the IZOD Center in New Jersey in spite of Vince McMahon, not because of him. With the rate secondary titles are exchanged these days, I doubt it'll even take THAT long. At least we got the original Fandangal back. Nothing wrong with Summer Rae, this librarian prefers brunettes to blondes however.
4. Zach Ryder will be released by Wrestlemania 30.
Vince McMahon hates when people expose the business. Unless it's his doing (see: shoot promo; Punk, CM). Tweeting about being misused and wrestling on national television with the words "push me" sketched on your ass is a sure fire way to get yourself future endeavored. I doubt TNA is even desperate enough to pick him up. His match against Cesaro on RAW should be a solid indication in the direction creative is taking with his character. Woo woo woo! Enjoy the indies!
5. Daniel Bryan will be World champion again by next Mania.
Honestly, what's left for Team Hell No to do? It looks like they're set to feud with The Shield over the tag titles. As mentioned above, I fully anticipate Rollins and Ambrose capturing the belts before too long. This event will more than likely be followed by the splitting up of DB and Kane. Daniel Bryan is over. No…I mean he is OVER. I fully expect him to be back in the title hunt momentarily.
I'm not sure what is left for Kane to do. From deranged dentist, to necrophiliac, to unmasked monster, to anger management; Glen Jacobs has been through the gauntlet of professional wrestling angles. He's still got some gas left in the tank though. He should be used to put over wrestlers like Cesaro, Ryback and Sandow. Younger guys who would benefit from a win over an established guy. Or they could always bring back Pete Rose. Bonus Prediction: Pete Rose at the Royal Rumble. 

6. A deceased wrestler will be inducted into the Hall of Fame.
This one is automatic right? Sadly there are too many options to choose from. Macho Man, Rick Rude, Owen Hart, Brian Pillman, Paul Bearer. As friend to the site Bill Simmons would say "If gambling were legal……" Paul Bearer would be the heavy favorite to be inducted this year. (Fun SAT analogy: Bill Simmons is to The Great Mambino.com as Little Jimmy is to R-Truth.)
Give Bearer 2:1 odds, Rick Rude 9:2, Pillman 15:1, Macho Man/Owen Hart 1000:1.
7. Ryback will win the WWE championship at least once.
The WWE knows that John Cena, the character, is stale. What was once a 50/50 reaction by the crowd, has become a visceral 90/10 crowd response. Vince can't protect his man crush by trotting out Make-A-Wish kids every week. Cena is at his best chasing after the belt rather than defending it. It might not happen at Extreme Rules, but baring an injury this one seems pretty certain right? With Punk taking some time off, there aren't too many players left on RAW. And come on, I mean they can't have John Cena overcome the odds and win EVERY match, right? Ignore that last question.
Bonus prediction: John Cena will NEVER turn heel.
8. Brad Maddox will join the Shield.
As much as I enjoy Team Brickie, it will be revealed that the position was a ruse all along. The epic beat down he received was all a set up to subtly help out The Shield as co-General manager with Vickie Guerrero. As co-general manager of RAW, it will be explained that Maddox was able to give the Shield favorable match ups.
9. El Generico will not debut before next Wrestlemania.
Everyone's favorite indie darling has been signed to a developmental deal with the WWE. I applaud HHH's new initiative to look to the indies to sign talent, rather than rely on shows like Tough Enough. Unfortunately Generico has been completely repackaged. They took away his mask and changed his name. El Generico is now Sami Zayn. I'm not going to pretend like I've followed the guy his entire career. Only recently have I seen some of his ladder matches from ROH with Kevin Steen. But the man is undeniably talented.
However, stripping off his mask and changing his name is probably the best move for him personally. The WWE likes to copyright everything they get their hands on. By changing his name, Rami Sebei can use the Generico name again if he gets released. Plus, if Vince feels like he had a hand in "creating" Generico, he'll reach the big dance quicker. For proof just look at the the list of guys held back because they made their name else where before coming to the WWE. (see; list too long to fit)
10. Cody Rhodes or Damien Sandow will have a World Heavyweight Title match on PPV.
I thoroughly enjoy Cody Rhodes and Damien Sandow as BFF's for life. I am very surprised that these two have not had a tag team title run as of yet. The only thing holding these gentleman back as singles wrestlers, is their own fantastic chemistry as a tag team. That being said, I fully anticipate Rhodes or Sandow being randomly thrown into an Elimination Chamber match. I don't expect them to win, just that they will be included.
11. JBL will wrestle in a match.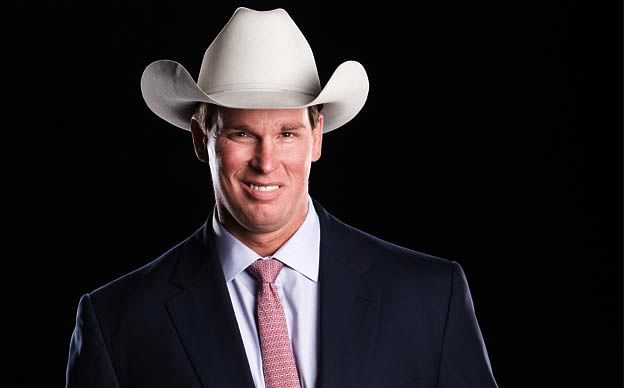 It may just be a Royal Rumble appearance, but I think John Bradshaw Layfield will lace up his boots one more time.
JBL is my favorite out of all the current announcers. The dude combines obscure knowledge with in-ring experience (and not Mid-South wrestling experience like Lawler). JBL has been in the ring with most of the guys on the current roster. It gives him instant credibility when he is critiquing matches. If Michael Cole and Jerry Lawler got in the ring last year, why shouldn't the self proclaimed "Wrestling God" get the opportunity? As long as he's not facing Joey Styles in a street fight, he should fare pretty well. Ohhhh my gawwwwwwd!
12. A former TNA world champion will join the WWE's active roster.
RVD's contract is expired. He is technically a free agent. I'm not sure what Angle's status is. I find it hard to believe that either of them would give up the sweet deal they had with TNA that included minimal appearances to return to the WWE's insane travel schedule. If either one of them returns, don't expect them at house shows.
I have no idea what the contract statuses of TNA's other wrestlers are. I don't even watch the program. But I would not be surprised to see Samoa Joe, Austin Ares, Robert Roode or AJ Styles make the jump at some point this year. The WWE's talent is thin at the top. A good old fashioned "raid" just might be the cure. Or they could book their own talent properly.
My money's on the raid.
13. CM Punk and Brock Lesnar will form their own stable.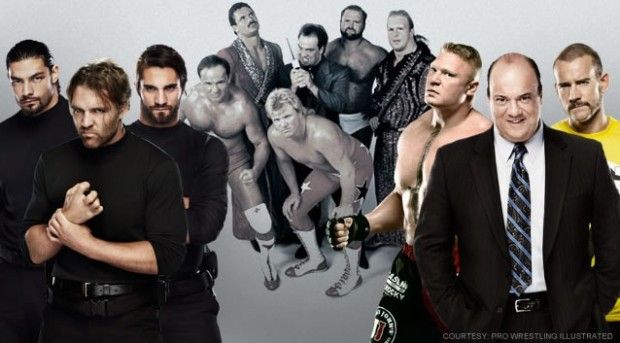 This idea is too awesome and makes too much sense for it not to happen. (One could argue that this is exactly why it will NOT happen). Paul Heyman guy, meet Paul Heyman guy. In my opinion, the only thing keeping this from happening is Brock Lesnar's limited dates contract. Obviously if Lesnar were to form a heel stable, it would require him to have more appearances on RAW. If they would consider pairing up CM Punk and Brock Lesnar, why not go all the way and add The Shield to the mix? The new Dangerous Alliance would be amazing. Better than DX in my opinion. And there is NOTHING to stop this from happening besides an inept creative team and a lack of competition for Vince McMahon. Make this happen Vince and I swear I'll watch every episode of Superstars. You want me to buy a John Cena lawn gnome? Consider it done. Now give me the new Dangerous Alliance.
(Editor's note: There it is! The weekly "Dangerous Alliance" shout-out!)
14. A legitimate main event superstar will fail the Wellness Test.
This has to be another lock right? Rey Mysterio, Randy Orton and Evan Bourne are 2-time offenders. One more and their contract is terminated. I'm going to throw DUI and drug arrests under this umbrella as well. This past year we saw DUI's by Jimmy Uso, Funkadactyl Cameron and Jack Swagger. Swagger appears to have escaped relatively unscathed, but who knows what his original plans at Wrestlemania were. Did Swagger's arrest lead to championship plans being scrapped? Was Dolph Ziggler given the nod as a result? If that is the case….Weed the people! I fully expect more jobbers to make stupid decisions, but I see this being the year that a bonafide superstar gets suspended or possibly released.
15. The main events for Wrestlemania XXX will be: John Cena vs The Undertaker; Brock Lesnar vs The Rock and Stone Cold Steve Austin vs CM Punk
If I was sure that these three matches were going to occur at Wrestlemania XXX, I would book my ticket to New Orleans tomorrow. Austin vs CM Punk is the wildcard here. The other two are probable, with Brock vs Rock II tentatively planned already. The major question mark is whether Stone Cold Steve Austin wants to come back. He's said on a number of occasions that he has one more match in him, for the right opponent, at the right time. Facing the Best in the World at the thirtieth anniversary of Wrestlemania would seem to fit those preferences. Austin/Punk writes itself. The Straight Edge superstar vs the beer-guzzling Texas Rattlesnake.
Brock vs The Rock would draw HUGE numbers. Their original match in 2002 was phenomenal. The Long Island crowd knew that the Rock was leaving so they turned on him ferociously. The crowd added to the match, but Brock Lesnar's reversal of the Rock Bottom into the F-5 was an iconic moment. Lesnar pinned the Rock clean in the middle of the ring to become (at the time) the youngest WWE champion in history. Count me all in for the rematch.
There is no one left for the Undertaker to face at Wrestlemania (well, besides Sting, but alas, that match will never happen). The only opponent left that causes you to pause for even a moment about the outcome is John Cena. Super Cena is the only threat remaining to the Undertaker's undefeated streak at Wrestlemania. I'm not saying he would or should win, I'm arguing that in the minds of the fans, he is the only man left that could conceivably end the streak.
Book these matches and take my money. The only thing left to argue about is which one of these matches deserves to close the show.
Thanks for tuning in. Questions/comments, hit me up on Twitter @TheRAWLibrarian. Let me know your own predictions, no matter how obscure. I don't care if it's something like "Kelly Kelly is Kaitlyn's secret admirer." In fact, that would be awesome. Kelly Kelly vs Brunette Fandangal in a "My heart on a pole match." I'll be back to write some thoughts about Extreme Rules next week, until then, just chill until the next episode.