Utah Jazz get: Mo Williams, draft rights to Shan Foster
YOUR Los Angeles Clippers get: Lamar Odom
Houston Rockets get: draft rights to Furkan Aldemir
Dallas Mavericks get: draft rights to Tadija Dragicevic, cash from Houston, and a relief from the pain and suffering brought by The Kardashian Curse
Odom's 2.4 million dollar salary would have become a hefty 8.2 by tomorrow if Dallas couldn't pull off a miracle. Enter the Utah Jazz and their Mormon kindness, willing to take disgruntled backup combo guard Mo Williams from the Clippers, to facilitate a four-way deal.
By unleashing the much-maligned but uber-talented Odom, Dallas puts the finishing touches on what has to go down as one of the most abysmal title defenses in recent history. Mark Cuban, in only one calendar year, did the following:
Lowballed Tyson Chandler, the man who allowed Dirk Nowitzki to hide on defense, which allowed Chandler to leave for New York
Signed Half-Man, Half-Woman Vince Carter
Traded Corey Brewer and Rudy Fernandez to Denver for a future second-round pick (!)
Traded a first-round pick and an 8.9 million dollar trade exception for to the Lakers for Lamar Odom and a second-round pick
Now, of the four, the Odom deal was universally described as brilliant. Odom was fresh off becoming an unsuspecting victim of David Stern's "basketball reasons" veto, and couldn't muster the testicles to play for a franchise that didn't want him. (Of course, "didn't want him" = "we were on the verge of getting Chris bleeping Paul, you idiot.") We laughed at Los Angeles, as Dallas seemed to luckily pounce on Showtime's misfortune.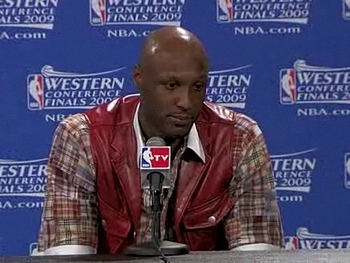 But Odom endured the worst year of his personal and professional life. While basketball Twitter was focused on the rumblings of the lockout, Odom spent his summer in pain over two deaths. One was the murder of his cousin, the other was a teenage pedestrian killed when a car, in which Odom was a passenger, collided with a motorcycle. As a result, the former University of Rhode Island standout arrived in Big D looking as doughy as ever, his conditioning probably suffering from having to eat Khloe's leftovers whenever the behemoth felt pressured by her breathtakingly beautiful sisters (meaning, everyday). Okay, his conditioning actually suffered from not playing any basketball at all during the offseason, as opposed to the previous year, where he made a valuable contribution to the Kevin Durant-led Team USA that won the World Championships in Turkey.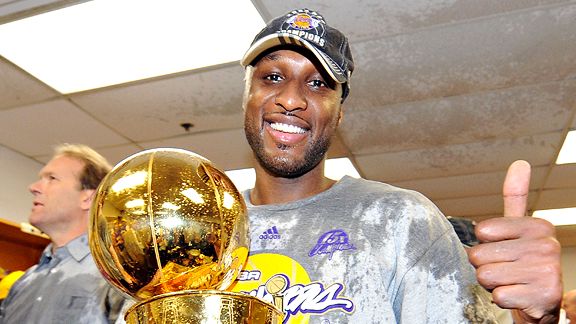 But everything was supposed to be water on the bridge once the first jumpball was thrown up. After all, this was the reigning Sixth Man of the Year (although I guess the award has lost some luster in the past few weeks. You know who you are.). This was the guy who was versatile enough to play all three frontcourt positions, handle the ball, create, pass, and shoot. This was the guy who was traded to a team that was coming off a Larry O'Brien trophy, dismantling the team that made the trade, via sweep.
Not so fast, my friends. Odom sauntered through the 2011-2012 NBA season, producing career per game lows in minutes played (20.5), points (6.6), rebounds (4.1), and shot a frightening 35% from the floor. He spent some time away from the team to figure his ish out, and even had a short stint in the D-League (although he did not play an actual game there).
__________
Even yours truly was guilty of poking fun at Lamar Odom. But with today's news, Odom has an opportunity to reclaim his place as a contributing member o
…
Read more...