What's happening in the water in major metropolitan cities across the US? Has the trace amount of fluoride in the tap just suddenly started to disintegrate tendons in your joints? Has pine tar gained the properties that destroys calcium in your bones? I'm not sure exactly what's causing our favorite athletes to drop faster than Charles Barkley does names on TNT. Let's take a look at who exactly went on the 15-day DL this week, how it'll affect their team, but most importantly, how it's going to affect YOUR fantasy team.

OF Carlos Gomez, SS Alex Gonzalez and 1B Mat Gamel, The Good Land Brewers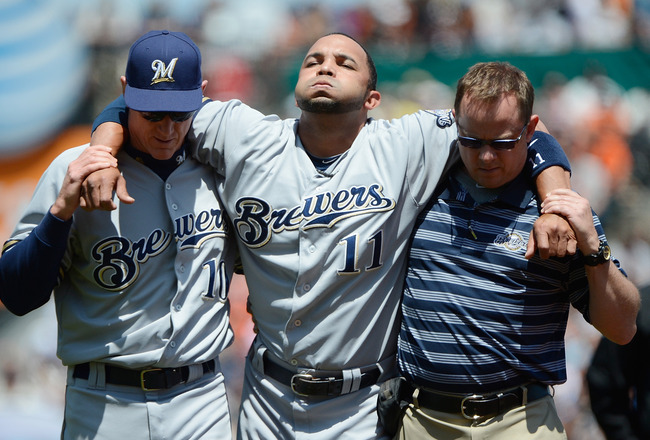 All in a week, three Milwaukee starters went down with leg injuries, including Gomez with a strained hamstring, and both Gonzalez and Gamel with a torn ACLs. Extremely bad news for a Brewers team that's already under .500 and trying to get their postseason mojo back after losing Prince Fielder to free agency and trying to escape Ryan Braun's cheatery scandal.
The problem here isn't so much that these guys are integral parts to the Milwaukee offense; Gomez was an above-average player, while Gamel and Gonzalez were giving the Brewers replacement-level production. Nor was it that they had any particular upside as the season went on. The real hurdle to their absences, especially a season-ending injury like Gamel's and Gonzalez's, is that the players replacing them are indicative of Milwaukee's lack of depth. Two punchless hitters in SS Cesar Izturis and 1B Travis Ishikawa are now the starters, and an under-achieving OF Nyjer Morgan is replacing a cresting Carlos Gomez. Sure, Gamel, Gonzalez and Gomez weren't All-Stars or highly productive hitters, but at least they were decent, rather than the below replacement-level stink performed by their understudies. All in all, a devastating week for Milwaukee.
Fantasy Spin: None of these three are worth even holding on your DL spot, unless you're in a very deep mixed league or NL-only league (in both Gonzalez's and Gamel's situation, they're a must-drop for everyone). Their replacements aren't worth picking up either, so if you owned anyone that I just talked about, you're pretty much screwed. Sorry.
RP Huston Street, SP Cory Luebke San Diego Padres
Like the Brew Crew, an awful week for the San Diego Padres. Almost already out of the race for the NL West at 9-20, the Padres just lost their best starting pitcher to potentially a season-ending Tommy John surgery (not confirmed yet), and their injury-prone closer to a strained lat muscle. It's not so much the on-field performance for both of those guys, but rather how they fit into the Padres future plans.
Luebke of course is young and controllable contract-wise for years to come. Surgery to repair a torn UCL in his pitching elbow would knock him out well into next season, when the young Padres would begin to be at least competitive, if not working for a NL West title. On the other hand, Street is a free agent at the end of the season, so his value to the Padres lies entirely in if he were to be dealt at the trading deadline for at least one decent prospect. Unlike the win-now Brewers, this was a bad week for the Padres because of how it affects them down the road.
Fantasy Spin: Word is that the human machine-gun Andrew Cashner is the trendy pick for the closer's role, so if you're in a league of any respectable activity, he'll already be gone at this point. Luke Gregerson might be a guy to hold onto just to make sure Cashn… Read more...