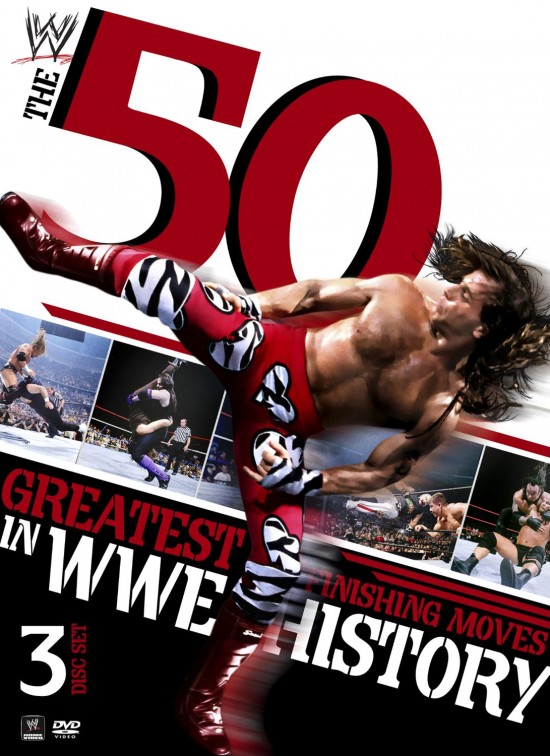 It's been a while since I've written anything, so needless to say, I've been getting the itch. I'm still far too busy finishing up my last semester of grad school to write consistent RAW reviews, but hopefully this will suffice for the time being. A couple things upfront, I will only be reviewing disc one. Discs two and three are filled with old matches from the likes of Sergeant Slaughter, Bob Backlund and the Wolfpac. I skimmed through that content, even finding an RVD vs Too Cold Scorpio match that I've never seen before (and really was not worth watching), but this review will primarily be focused on the 50 best finishers discussed on disc one.
One more thing, I will be listing the finishers in reverse order here and briefly discussing what merits their placement on the list. If you want to be surprised at what is included, stop reading now.
Spoiler Alert: John Cena's "Attitude Adjustment" makes an appearance. Thankfully this glorified fireman's carry was not in the top 10. Here we go.
50. JBL's "Clothesline from Hell" 
A strong start. In my opinion, this may be the most devastating maneuver on the entire list. There's ways to prepare for a top rope splash or a submission move, but there is no avoiding getting absolutely destroyed by the "Clothesline from Hell." Listed at number 50, this may be the one finishing move on the entire list that I would least want to take. I mean, it would be an honor to get Stone Cold stunned and sell it like The Rock. Taking Hulk Hogan's immortal leg drop would be a crowning achievement in my life. However, I would never in a million years volunteer to take JBL's Clothesline from Hell. Bradshaw already had a reputation for being stiff in the ring, and this finisher did nothing to dissuade that way of thinking. JBL took a routine clothesline every wrestler performed and turned it into one of the most fearsome moves in wrestling history. 
49. Vader "Vader Bomb"
"The Vader Bomb was a pretty unique move because it showed the athleticism of a 400 lb guy" -Jim Ross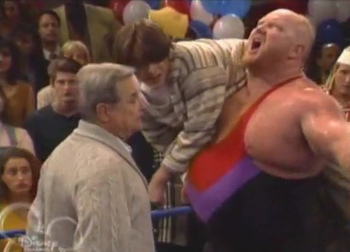 I could not agree with JR more. Even though he's only dropping from the 2nd rope, it's 400 lbs
directly
on your chest. I would imagine breathing properly after that one would be a challenge. Unfortunately for me, Vader was at the very beginning of my wrestling watching career. I recognize him more as Frankie's dad on "Boy Meets World" than as the agile big man for the WWF and WCW. I loved seeing him come out and destroy Heath Slater during his last appearance on television.
As big and tough as Vader was, my money is on Mr. Feeny. His Vader Bomb was a cool move, made even more impressive by Vader's size.

48. Dusty Rhodes "Bionic Elbow"
Dusty Rhodes is well before my time. The only time I've seen the American Dream on screen was well after his in-ring days were over. My only real memory of Dusty was during his brief time in ECW when he feuded with Steve Corino. Rhodes had that ravenous audience's respect, so I knew he must have been a big deal back in his day. He certainly did not look like the prototypical wrestler, with his physique definitely left something to be desired. As for the finisher itself, not my favorite, but it certainly deserves a place on the top 50. It could look good if sold correctly, and it may have inspired Wade Barrett's new elbow finish. Properly placed near the bottom of the list.
47. Million Dollar Man "The Mill
…
Read more...