KOBEsh went to Vegas this past weekend. While there, he decided to spend some time writing about the NBA trade deadline's winners and losers. His dedication is shameful yet endearing.


This post is probably a touch outdated, but the man wants the post run based on principle alone.



WINNERS
Los Angeles Lakers
As we went over last week, the Lakers definitely scored big at the deadline. They desperately needed a point guard, and Ramon Sessions might have been the best case scenario for them, especially without giving up one of their three All-Stars. While Jordan Hill wasn't the best solution for their need of a scorer off the bench, hopefully he'll be able to give LA half of what near-Laker Michael Beasley would have given them. Subtracting Derek Fisher will have an effect on chemistry,  especially with Kobe and the other vets, but he had to be dealt to diffuse an almost certain caustic situation in terms of point guard minutes. A huge win for the Lakers, one that maybe could transform them into a title contender.
Orlando Magic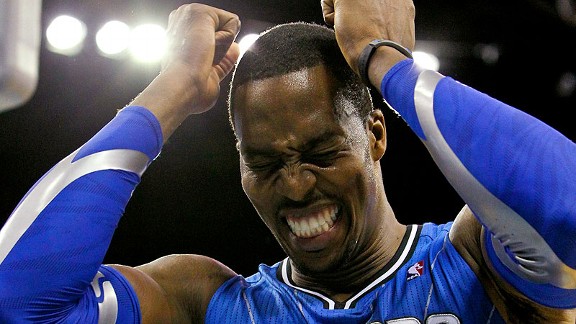 How could they not be? Let's not even get into Dwight's imitation of a drunk 19 year-old who "kinda wants to get down tonight, but I don't know, my friends are here and I'm sooooooooo drunk" that he's pulled the last few days. As I said to Mambino correspondent El Miz yesterday, it's amazing that these players seem to concerned with their brand, and yet, not at all concerned that the circus they creates far more damage than any move could provide improvement.
Regardless, Orlando is a huge winner here. They somehow (I'm still not sure. Did they have naked pictures of him and Jameer together? Did they threaten to kill his dog? What happened?) convinced Dwight to stay for another year and a half, in which GM Otis Smith will have to pull a flock of rabbits out of his butt to make this team a contender. Regardless of whether he does that (amazing) feat or not, he has bought himself another year (until the next trade deadline) to prove to D12 that this team is worthy of him committing for another 5 seasons.
San Antonio Spurs
In a trade with the Warriors, the Spurs flipped SF Richard Jefferson for a new addition SF Stephen Jackson, who had arrived in a deal from the Bucks only days earlier . As I mentioned a few days ago, Jackson is having one of his worst seasons in years, though I would put a lot of the onus on the fact that he was playing in a system his skills weren't best suited to, for a coach who he didn't get along with. Jax won a title with the Spurs almost a decade ago in 2003, and famously fell in line with Greg Popovich in, what had been until then, a rocky NBA career full of trouble. Jefferson has become more and more ineffective each year, and 2012 is no different. At his best, Jackson is a gigantic upgrade over the Spurs, and even at his age (33), is still a threat to score, rebound and pass with tremendous efficiency. A great acquisition for the Spurs, who are quietly angling for title number 5.
Washington Wizards
JimmyWa's reaction to getting Nene.
In a three-way trade with the Clippers and Nuggets, the Washington Wizards acquired Brian Cook and Nene for the price of Nick Young, an injured Ronny Turiaf and the unintentionally hilarious JaVale McGee. I couldn't sum this up any better than friend of the blog and last Wiz fan standing, AO:
"Holy crap, this is awesome! We're turning Nick Young and Javale McGee into Nene!! At this point can we keep the momentum going and just ban Andray Blatche from all Wizards facilities?  Honestl… Read more...