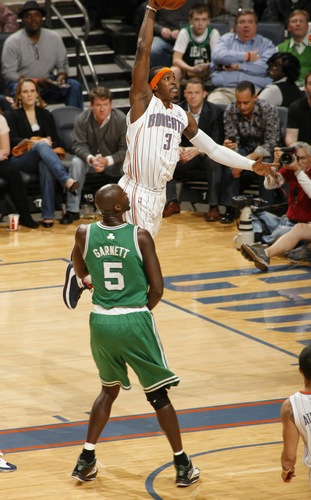 It's been 36 hours since NBA free agency began, and we've already seen enough evidence that the lockout didn't make teams smarten up in terms of managing their funds. When Roy Hibbert, whose career highlights involve two guest appearances – one on the 2012 All-Star roster, and the other on Parks and Recreation – gets offered the same type of money that NBA Champion and incumbent Defensive Player of the Year Tyson Chandler gets, there's definitely something wrong with the way teams are balancing their cap.
But that deal's not done yet. Let's talk about the ones that have been offered, accepted and will be signed as soon as the moratorium ends on July 11th.
Kevin Garnett re-signs with the Boston Celtics, for a reported 3 years, $36 million
There are a few things that this deal is, and a few things that this deal isn't.
First and foremost, this is a good deal for the Celtics. Even at age 36, KG made 2nd Team All-NBA Defense, manned the center position for over half the season and was the second-best player on Boston's roster. His trademark intensity hasn't abated at all in his 17th season, and though he can't operate in the low post as effectively as he used to, his mid-range game and post defense rank as some of the best in the league. At the very least, the Celtics will get $12 million worth of value for next season, perhaps a little less the season after that, and at age 39 and in his 20th season, all bets are off for the third year of the deal. Obviously offering a 3-year pact was the tipping point for getting KG to agree so early in free agency, as other suitors would have come calling for either a higher annual salary or perhaps a bigger role on the team.
Garnett is the leader of the team, regardless of if Rajon Rondo is their franchise player and Paul Pierce is their fourth quarter go-to guy. He led the way in the defensive transformation of the C's five seasons ago, as well as keeping a fiery intimidation that shrinks almost any team in the league in their wake. More than anything else with such a relatively long-term deal, KG, along with coach Doc Rivers, needs to be around to sustain the culture of this team.
What this deal isn't is a "discount" of any type for the Celtics. The team re-signed a 36 year-old with bad knees whose going into his 18th season. Yes, he was healthy for the majority of last season, but what about the two before that? When Boston meekly submitted to Miami one year ago in a five game series (that they would have lost even if Rondo didn't get hurt early – book that), "washed up" and "Kevin Garnett" were two synonymous words. I applaud KG for limping back, working on his body and remaking himself into the all-world defensive player he's always been, but to suggest that he'll stay this healthy for the next three years is foolish. The Celtics paid full price for Garnett's services the next three years. No other team would have offered him that long of a deal, and though a two-year pact of an higher annual value would have been possible, it certainly wouldn't have been for $36 million. If anything, they overpaid.
On KG's part is this a move that codifies his desire to "win"? Surely. The Celtics will still be a contender in the East next year. He wanted to stay a Celtic, play for this coach, these fans and this team. However, this deal blew away everything that anyone else could have offered. Sure, this was a move geared specifically towards "winning"… Read more...