3 Things Lost in Linsanity
"These Asians don't even like basketball, and now they're coming out of the woodworks!"
If I roll up to the Garden, or even a Bocker bar, I'll hear some type of comment like that. All those hours I've spent having bad dreams about John Starks' 2-for-18 performance in Game 7 of the 1994 Finals, rooting for Jeff Van Gundy as he hung onto Alonzo Mourning's leg for dear life, and sitting in the exact same spot for every game of the 1999 run…gone. I'm basically just another slanty-eyed dude whose expected to bring a sign showing my ability to place the letter "L" in front of any syllable that sounds like "in."
Of course, a 7-game winning streak makes it all worth it. Because deep down, my loyal Mambinites know that I dish and swish when it comes to dispensing hardwood smarts. And with that, I present to you guys, the 3 biggest things lost in the hullabaloo that is Linsanity.
Now, I'll just admit it right here. This post can't possibly be as thought-provoking or well-written as the epic masterpiece that my brother KOBEsh put out this past Saturday. So I reached out to the kid and asked him to give me an assist for this write-up.
The 3 biggest things lost in Linsanity are:
1. The Knicks NEEDED these wins.

KOBEsh: Just 13 days ago, the Knicks were 8-15 and out of the playoffs. They were trailing the Cavs and Bucks for the final playoff spot. To put this in perspective, this is a Knicks team that some overzealous fans and MAMBINO bloggers thought could even make a run to the Eastern Conference Finals. Instead, they were floundering worse than we ever could have imagined, just struggling to get the 8-seed.

After last night, their record stands at 15-15. This 7-game winning streak isn't just a nice confluence of events surrounding Jeremy Lin's unprecedented and meteoric rise. This was absolutely necessary to save a Knicks season from getting too far out of control.

2. Iman Shumpert, playing without the pressure of running the offense, is becoming the steal of the 2011 Draft.
I've been a Shumpert guy ever since the first preseason game. Picked 17th in the 1st round, the guy is built like a #1 Wide Receiver prototype, with the uncanny defensive reflexes of Darrelle Revis. But he's not a natural point guard. After Toney Douglas struggled (I'll get to him later), Mike D'Antoni turned to Shump. The rookie hit a brick wall, engaging in poor shot selection merely because he didn't know when to shoot or when to pass. And when the losses started piling up, he became a little timid, losing confidence while manning up against high-caliber guards such as Derrick Rose and Dwyane Wade.
The Jeremy Lin Experience has taken everybody by storm, but it is Iman Shumpert who has settled into a role with the Knicks that best suits an inexperienced rookie. By playing off of Lin, Shump has saved plenty of energy to burn for the defensive end, culminating in Tuesday night's jaw-dropping shakedown of Jose Calderon at mid-court.
Jeremy's game-winning 3 propelled the Bocks to a huge comeback win. The Garden crowd that showed up for last night's game against Sacramento showered Lin with praise, MVP chants, and pleas for D'Antoni to insert him into the 4th quarter of a blowout win (those pleas, among other things, make me understand why people call Asians out for not being real fans).
But without Shump's defense, Jeremy might never had the chance to win it in the end. It's an absolute TRAVESTY that this man was not picked as one of the 8 "rising stars" representing the rookie class in this year's All-Star game.
3. The mafia hit on Mike D'Antoni has been postponed.
Winning cures a lot of ailments, as the saying goes. But for a typical Knicks fan, it's just not that simple. Although it is satisfying to see a competent point guard directing an offense predicated on spacing, slip screens, and constant movement, Mike D'Antoni's mistakes are still apparent to the well-trained eye.
"What, like it's my fault?"
Last year, the Knicks looked like a dangerous team as they arrived in Boston to play a first-round postseason matchup with the Celtics. The team boasted offensive firepower to the max, but were ultimately swept in 4 games, 3 of which were close. Even my optimistic self couldn't predict a series win for New York, but I expected to win a couple of games. The team couldn't do that, however, mostly due to Amar'e Stoudemire's unfortunate back injury suffered in pre-game warmups. A lot of pundits pointed to D'Antoni's overuse of STAT as the leading cause of injury. This is a staple of the D'Antoni coaching regimen: play your stars to the bone, and worry about problems when they arise. Amar'e was a legitimate MVP candidate last year, but it came at the expense of tired legs, sore muscles, and an increased risk of injury.
This year, the plan is no different. While MDA has a minutes plan in place for this condensed schedule, he has veered from it whenever a particular game is on the line. The rotation calls for Stoudemire to sit at the end of the first and third quarters, playing the entirety of the second and fourth. Carmelo Anthony and Tyson Chandler are slated to rest for the beginning of the second and fourth quarters, playing the entirety of the first and third quarters. The rest of the team plays based on feel, their relative in-game success dictating their playing time going forward. In a close game, however, all bets are off.
Injuries often create headlines and comments that involve other teammates having to step up and collectively assume the responsibilities of the player missing time. In D'Antoni's case, an injured player's minutes have mostly fallen to the other stars, instead of being spread out amongst the rest of the rotation. Sure, Bill Walker and Jared Jeffries have seen an uptick in court time, but it is still disconcerting to see minutes being spread out unevenly. Take New York's newly adopted son, for instance. Jeremy Lin does not possess the conditioning of Steve Nash or even Raymond Felton, D'Antoni's last two quality point guards. Nash is just as spry during 4th quarters as he is during warmups. Lin, on the other hand, is not quite there, and maybe he won't ever reach such a high level of stamina. Right now, it is apparent that this has been a huge factor in Lin's league-leading turnovers. Lin gets so tired that you can see the exhaustion on his face; you can actually make out how heavy he's breathing. When he's tired, his focus wanes just enough for the defense to react a split-second quicker. When he's tired, he's going to have 65% free throw shooting lines. When he's tired, he's not Super Lintendo; he's regular Nintendo, his offensive arsenal reduced to fewer buttons on a smaller controller. I'll agree that controlling the ball as much as Lin has in this offense creates a high propensity for coughing the ball up, but for all of Melo's faults, even he never turned the ball over this much when he was the dominating offensive presence. Mike D'Antoni must find a way to trust his bench, even if it leads to regular-season losses. It will be better for the team in the long run.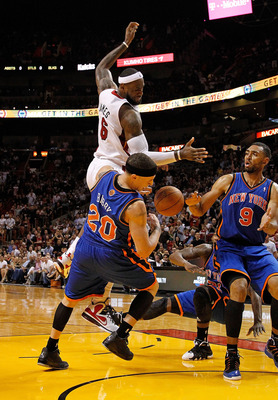 And finally, why oh why does Mike Bibby continue to get backup point guard minutes? Last night, lead announcer Mike Breen mentioned how great it is to see Bibby still trying. And to a certain extent, I'm glad Bibby hasn't fallen victim to the woe-is-me routine. But the man is finished. A decent career is coming to an end. Bibby is slow, short, and an on-the-ball defensive liability, and those are weaknesses that the Knicks knew they were getting! When he was signed, the plan was for him to be a sharpshooter off the bench. Bibby has been cold from the field virtually all season, and his role has been usurped by Steve "Novocaine" Novak (God bless Clyde for that nickname), who surprisingly has also contributed in several non-shooting categories.
Bibby's minutes have come at the expense of fourth-year combo guard Toney Douglas, mired in the worst slump of the former Seminole's career. During last night's blowout, Douglas was inserted for about 5-6 garbage minutes at the end. His confidence noticeably shaken, despite the handful of field goal attempts he took, Douglas played out the string. I've mentioned in this space before that Douglas has the potential to be a useful rotation guard, unlike his older counterpart, Bibby. According to the MSG telecast, he's taken that "first to arrive, last to leave" mentality into practice and shootarounds, knowing that he has to improve his overall play. Additionally, it's easy for any fan to see how great of a teammate Douglas is, always one of the first to leave the bench to congratulate a fellow Knick for a job well done. The guy needs minutes. That much is obvious due to the Linsanity phenomenon itself.
Although if Jeremy was stuck on the bench, then well, I'd go back to being just another hardcore NBA guy.