2013 Free Agency for the newly-bought LA Dodgers
We can't wipe the smiles off our faces over here at MAMBINO. The reign of Frank McCourt has come to it's unofficial end, with the paperwork ready to be drawn up and stamped. We will all breathe easier knowing that the autocratic rule of one of the most disgraced owners in professional sports will soon be a but a bad memory. I've truly never wanted to move past anything more than this, ex-girlfriends included.
That last sentence obviously was untrue.
For weeks this winter, the chatter on the interweb was that the Dodgers were secretly in the running for first baseman Prince Fielder, a power-hitting whale (of a human), whose massive presence both on the field and in the line-up was the exact addition LA so desperately needed. The offer never turned into anything more than that, sadly, as Fielder and his agent Scott Boras signed a massive 9-year, $214 million dollar deal with the Detroit Tigers, a deal that I don't necessarily think makes the Tigers into a title contender. Nevertheless, Prince is now a Tiger, and my dreams of a make-good 1-year deal is off the table.
As we stated in our 2012 Dodgers Preview, the team just can't be considered a contender this year. They face deficits in their starting rotation, every infield position and at least 1 corner outfield spot. Playoffs are simply out of the question for this October. Except for aiming at a .500 record retaining our dignity, the 2012 season will largely be the Dodgers' front office holding a 162-game audition for the 2013 edition of the boys in blue. GM Ned Colleti and company will see which players would be able to impact a championship-caliber team going forward, and which men should be sold off for prospects and future considerations.

That all being said, let's look towards winter 2012-2013, when the Dodgers will ride Guggenheim Partners checkbook in landing the big players on the free agent market. Mark Walter, Stan Kasten, and of course, Magic Johnson know they have to make a big national splash, one that says "THE DODGERS ARE BACK", which will sadly be the next major LA marketing campaign (just envision that Billboard on the 10 Freeway – I'd put even odds on it happening).
Who will the free agents be? Who will be the next Los Angeles Dodger? Here is the list of 2013 free agents so far, courtesy of MAMBINO-approved superblog mlbtraderumors.com. From it, we've cherry-picked the very best free agents that the new and improved Los Angeles Dodgers will most likely be after:
1). Cole Hamels, LHP, Philadelphia Phillies
With a bullet. The fastest bullet that's ever existed. Like, one of those talking bullets from "Who Framed Roger Rabbit?" One of those.
His deal: Cole Hamels is going to be, without a doubt, the most sought-after free agent on the market. He's one of the 10 best pitchers in the league (CC-Verlander-Halladay-Felix-Clayton-Cliff Lee-Lincecum-Weaver-Wainwright-Hamels? Challenge!) and everyone is going to be after him. I'd say the likely suitors are the Phillies, Yankees (just because), Boston, Baltimore, Washington, Texas, Chicago Cubs and the Dodgers.
Why the Dodgers want him: Because he's one of the 10 best pitchers in the league. LA has a rotation of guys that are chock full of 3, 4 and 5 starting pitchers, rather than a potential 1 or 2 type of guy. NL Cy Young award winner Clayton Kershaw has finally come into the ace we all thought he'd be one day, but behind him are guys like Chad Billingsley and Ted Lilly. Cole Hamels would give the Dodgers a 1-2 punch that few teams in the league could contend with.
Why he'd sign in LA: Hamels is from Southern California, and after living in Philly for the past 6 years, I can imagine why LA would be a nice homecoming for him. Unlike the Phillies, he'd be joining a young team on the rise, rather than a rapidly cresting team in Eastern PA. He'd be the star attraction for the next 8 years of a resurrected Dodger baseball, and faced with the challenge of bringing back another one of the great NL franchises. More importantly, what is there left for him to do in Philly?
2). Matt Cain, RHP, San Francisco Giants
His deal: If Cole Hamels is one of the top 10 pitchers in all of baseball, Cain is right there in the next 12 to 15 (Challenge? Shields-Haren-CJ Wilson-Price-Lester-Beckett-Carpenter-Latos-Strasburg-Greinke-Cain). He's been criminally underrated in SF with some of the lowest run support in the league, and is one of the toughest starters in the league.
Why the Dodgers want him: If the Dodgers lose out on Cole Hamels, getting Cain would be a nice consolation prize. He's the perfect right-handed complement to Clayton Kershaw as a number 2 guy in the rotation. Even if the Dodgers were to sign Hamels, Cain should be a target still. Also, it's always great to figuratively shove it to the Giants, but weakening their starting rotation is a great tactical move.
Why he'd sign in LA: Money, plain and simple, and a lack of respect from the Bay. The Giants' first priority next winter will be locking up Tim Lincecum to a long term deal before he hits the free agent market in the winter of 2014. Moreover, they'll have to worry about the arbitration cases and escalating prices of Madison Bumgarner, Brian Wilson, Pablo Sandoval and Buster Posey. Maybe El Gigantes not giving enough respect to Cain to lock him up long-term will give him incentive to sign up with their biggest rivals.
3). David Wright, 3B, New York Mets
His deal: Wright may not even hit free agency next winter, as he has a Mets team option for $16 million dollars or a $1 million dollar buy-out. However, knowing the Mets dire financial situation, they're looking to cut payroll, and fast. Though a trade is more likely before this or during the 2012 season, Wright could hit the free agent market depending on what team acquires him, or perhaps will have a trade contingent on the team not exercising that option.
Why the Dodgers want him: Here is a list of all the guys that have manned the hot corner for the Dodgers since Adrian Beltre left LA after the 2004 season: Olmedo Saenz, Willy Aybar, Antonio Perez, Mike Edwards, Jose Valentin, Norihiro Nakamura, Ramon Martinez, Julio Lugo, Bill Mueller, Wilson Betemit, Joel Guzman, Cesar Izturis, Nomar Garciaparra, Shea Hillenbrand, Tony Abreu, Andy LaRoche, Casey Blake, Blake DeWitt, Ronnie Belliard, Juan Castro, Mark Loretta, Russell Martin, Russ Mitchell, Aaron Miles and Juan Uribe.
That's 25 guys. Do I have to explain why we'd need a perennial All-Star like David Wright?
Why he'd sign in LA: After Mets' ownership took apart a core that should have been the basis for a perpetual playoff contender in the East, Wright could be looking for a franchise with new, energetic ownership, flush with cash. The Dodgers have been looking for a permanent solution at third base for the past 7 years, and will be willing to throw an All-Star and MVP candidate like Wright the money and dollars that he's desires.
4). Mike Napoli, C/1B, Texas Rangers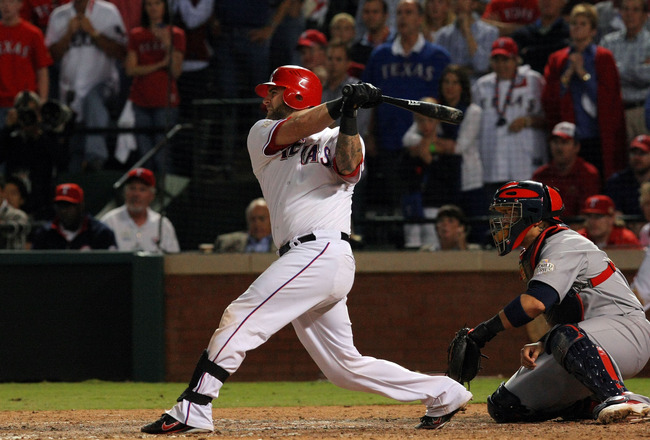 His deal: The first option here was St. Louis catcher Yadier Molina, but with a 5-year, $75 million dollar deal from the Cards, he was taken off the table.
Mike Napoli just had a breakout year in Texas as a part-time catcher, first basemen and DH and isn't a bad alternative to who I consider the  best catcher in the game in Molina. If he can come anywhere nears the insane power he showed last year (a 1.046 OPS!), then he'll be in line for a pretty big payday.
Why the Dodgers want him: Though the Dodgers traded for Tim Federowicz in-season last year, between him, AJ Ellis and any other catching prospect, LA really doesn't have any other catchers in the minor league pipeline. Napoli would set them up for years down the road, as they try to cultivate another backstop in their farm system.
Why he'd sign in LA: Like Cain, money, money, money. Also, Napoli really enjoys sticking it to the Angels, so what better way to show up and play like an All-Star right across town?
5). Zack Greinke, RHP, The Good Land Brewers
His deal: Grenike's contract expires this winter in Milwaukee, but he's stated that he's happy in The Good Land, and would be willing to stay. He's pitched to a 3.41 ERA and a 1.29 WHIP over the past 5 seasons, which included a Cy Young award in 2009. In two words? He's amazing.
Why the Dodgers want him: If they were to lose out on Matt Cain or Cole Hamels, Greinke is a great third option for a certifiable ace on the staff.


Why he'd sign in LA: The fear with Greinke was always that he couldn't deal with the enormous pressures of playing in a major market. However, with Kershaw on board, a lot of the scrutiny that Zack always thought he'd get won't be there. Also, the Dodgers will probably be shelling out a 9-figure deal for him. That's pretty okay.
Other options:
Shane Victorino, OF, Philadelphia Phillies; Josh Hamilton, OF, Texas Rangers; Michael Bourn, OF, Atlanta Braves; Andre Ethier, OF, Los Angeles Dodgers
Their deals: Victorino and Hamilton will both be free agents from their respective teams, though over 30 years of age. They'll command multi-year deals, and in Hamilton's case, probably a 9 figure commitment. Bourn is a fantastic defensive outfielder and a fine leadoff man, and is the only one on this list who's younger than 30.
Either's case is an interesting one. He'll go into the winter as a free agent (barring an in-season extension) after a make or break 2012 campaign. If he performs poorly or gets injured as he's been for the past two years, then that'll make three consecutive under-producing seasons. If he breaks out of his prolonged slump with a year like his 2009 season, then he'll be of high priority to the Dodgers, with a multi-year deal in the high 8 figures, or maybe even low 9's.
Why LA would want them: Matt Kemp is the only Dodger outfielder signed beyond this year. With or without Andre, they'll need to take a long hard look at Tony Gwynn, Jr., Jerry Sands and a couple other minor leaguers to decide who they want manning left field for the forseeable future. If none of those gentlemen work out, they'll definitely look towards Victorino, Hamilton or Bourn.
Brandon Phillips, 2B, Cincinnati Reds

His deal: A power option over the age of 30, at a position where there isn't a lot in the prospect pipeline. Phillips has been hitting for power at second base for years, and could be a target depending on what happens with the Dodgers in 2012.
Why LA would want them: Mark Ellis is signed up for two years, and Justin Sellers and Ivan DeJesus still have time to prove themselves. But other than that, no power prospects are coming up the Dodgers pipeline. Essentially, if Sellers, DeJesus and James Loney don't prove themselves this year, I wouldn't at all be surprised to see the Dodgers to try and sign Phillips.
Edwin Jackson, RHP, Washington Nationals; Anibal Sanchez, RHP, Miami Marlins
Their deals: Jackson and Sanchez are working on one-year deals that would leave them free agents next winter. Though both not aces, or viable number 2 starting pitchers, both could be considered 3's or 4's if pitching to their full potential. Wow, those sentences were way more depressing than I thought they'd be.
Why LA would want them: If deals for Hamels, Cain AND Greinke all fall through, the Dodgers will still be looking for pitching. Sanchez and Jackson, a Dodgers retread, would represent the next best options. Though less than ideal, they'd both represent solid options to put behind Clayton Kershaw.