Philadelphia Phillies 2013 season preview

Phillies' fans would like to forget about last season, to say the least. In 2012 we saw Philadelphia's five year reign as NL East division champions and perennial World Series contenders come to a screeching halt, as they failed to live up to the lofty expectations of a team coming off a franchise best 102 win season and a $170 million dollar payroll. Knowing they wouldn't make the playoffs, the Phillies jettisoned Shane Victorino, Hunter Pence, Jim Thome and Joe Blanton off in separate trades throughout the summer, cutting payroll and doing an adequate job in restoring their barren minor league system with talents that may contribute in the future (Tommy Joseph, Kyle Simon, Ethan Martin).

Jonah Keri from Grantland.com has made the argument to General Manager Ruben Amaro to blow up the team and start all over. Instead, the Phillies have opted to retool with an old, beat-up roster and give it one last go around.
Offseason moves
I honestly liked what the Phillies did during the offseason. They had numerous, glaring holes and they did their best to fix these issues without paying a premium. Knowing they didn't have much payroll flexibility, the Phillies traded for Michael Young AND got the Rangers to contribute a little over $10 million of Young's $16 million 2013 salary. He'll take over at the hot corner in place of the light-hitting, often injured, Placido Polanco. Young came cheap because of three factors; he was owed $16 million dollars, the Rangers had no place for him and last season was the worst of his career statistically. The Phils hope that this was an anomaly and that Young will rebound to his 2011 form when he batted .338 and finished 8th in the MVP voting.
Needing an everyday center fielder, the Phillies were no doubt interested in BJ Upton and Michael Bourn, but not at the prices they were going for on the free agent market. Instead the Phillies opted to trade for Ben Revere, to which some might say that they gave up a lot to acquire him. However, I would argue that they got a steal. They traded away their 4th starter in an (only) 24 year-old Vance Worley and one of their top relief prospects. Butttt….Worley has already experienced elbow issues and spent time on the DL last season with "elbow inflammation"; I wouldn't be surprised to hear about Tommy John surgery in his near future. Trevor May has the potential to be a power arm at the back of someone's bullpen, but the keyword is "potential", as pitching prospects are rarely a sure thing.
With Ben Revere they get a defensive stud in centerfield for years to come. This will be important if Delmon Young or Darin Ruff ever see playing time in the Phillies' outfield–Revere will have A LOT of ground to cover. Perhaps the biggest perk of the Ben Revere trade is his contract; he isn't arbitration eligible until 2014 and is under team control until 2018. He can do everything Michael Bourn brings to the table at a much cheaper price and happens to be six years younger.
5.17. Just let that number simmer with you a moment. That was the Phillies' collective ERA in the 8th inning last season. According to baseball-reference.com, the Phillies lost 12 leads in the second to last frame in 2012. In my eyes, most of this was due to not having a proper set-up man for Johnathan Papelbon. Mike Adams is one of the preeminent 8th inning guys in the league and has been brought in to be the bridge to Papelbon in the 9th.
2012 roster key departures: Shane Victorino, Hunter Pence, Jim Thome, Joe Blanton, Vance Worley, Placido Polanco, Juan Pierre, Ty Wiggington, Trevor May (prospect)
2013 key roster additions: Mike Adams, Ben Revere, Michael Young, Chad Durbin, John Lannan, Delmon Young
Postseason appearance hinges on: Roy Halladay and Ryan Howard
This pair of $20 million dollar players need to play at a level that justifies their enormous contracts. Cole Hamels and Clifton Phifer Lee are phenomenal talents and would be true aces on any staff. But even career years from both of them would not be enough to overcome a season plagued with Roy Halladay DL trips.
Something is clearly wrong with Doc, the most telling sign being that his fastball has
been topping out at 89 this spring. When he hasn't been missing starts because of illness, he has been getting rocked. The Phillies need Roy Halladay to be the guy who threw a no-hitter in his very first post season appearance. The past few seasons have led us to believe he was immortal. However, we are starting to see a few chinks in the armor.
Ryan Howard should finally be back to 100% after missing the majority of last season with an achilles injury. From 2006 to 2009, Howard hit 58, 47, 48 and 45 home runs. While he will likely never approach those numbers again, it's not unreasonable to expect 35 dingers and 100 RBIs from "The Big Piece" this season (Editor's note: His nickname is "The Big Piece"? That can't be true). If he can do that, it'll go a long way in helping the Phillies season, as well as silencing some of his critics who routinely deride his contract as the third worst in baseball (see Rodriguez, Alex; Crawford, Carl).
Best they can do: Let's say everything comes together. In the offense, we get a bounce-back, 2010 version of Michael Young, a healthy, motivated Ryan Howard, 155 games out of Chase Utley and Dominic Brown continues his torrid spring training pace all season. As for the pitching staff, Roy Halladay really is just "sick" and rebounds to vintage Halladay form, Cole Hamels proves why he earned a 6-year $144 million dollar extension by putting together his first 20 win season, Cliff Lee gets better run support and Mike Adams and Johnathan Papelbon are lights out in the 8th and 9th inning. Carlos Ruiz returns from his 25 game suspension and replicates his offensive output from last season, while Ben Revere provides stellar defense in the outfield and absolutely wrecks havoc on the base path. Teams don't figure out that Kyle Kendrick is not very good. If ALL of these things happen, the Phillies can reach 95 wins and regain the top spot in the NL East.
Worst they can do: Come on, the Phillies could completely bottom out and they're still finishing above the Mets and Marlins next year. Worst case scenario; 77-85 and a 3rd place finish.
Probable outcome: The Nationals are clearly the class of the division. Barring significant injuries to Strasburg, Harper, Zimmerman and Gio Gonzalez, the Nats are winning the NL East. That leaves the Phillies and Braves to battle it out for second place. While the Braves have greatly improved their team with the addition of the Upton brothers, as the San Francisco Giants have proven, pitching wins championships. And I'll take Cole Hamels, Cliff Lee and Roy Halladay over Tim Hudson, Mike Minor and Kris Medlen (although Medlen has potential to put up sick numbers this year).
Final prediction: 88-74 either finishing 1 game ahead or 1 game behind the Braves and getting one of the Wild Card spots.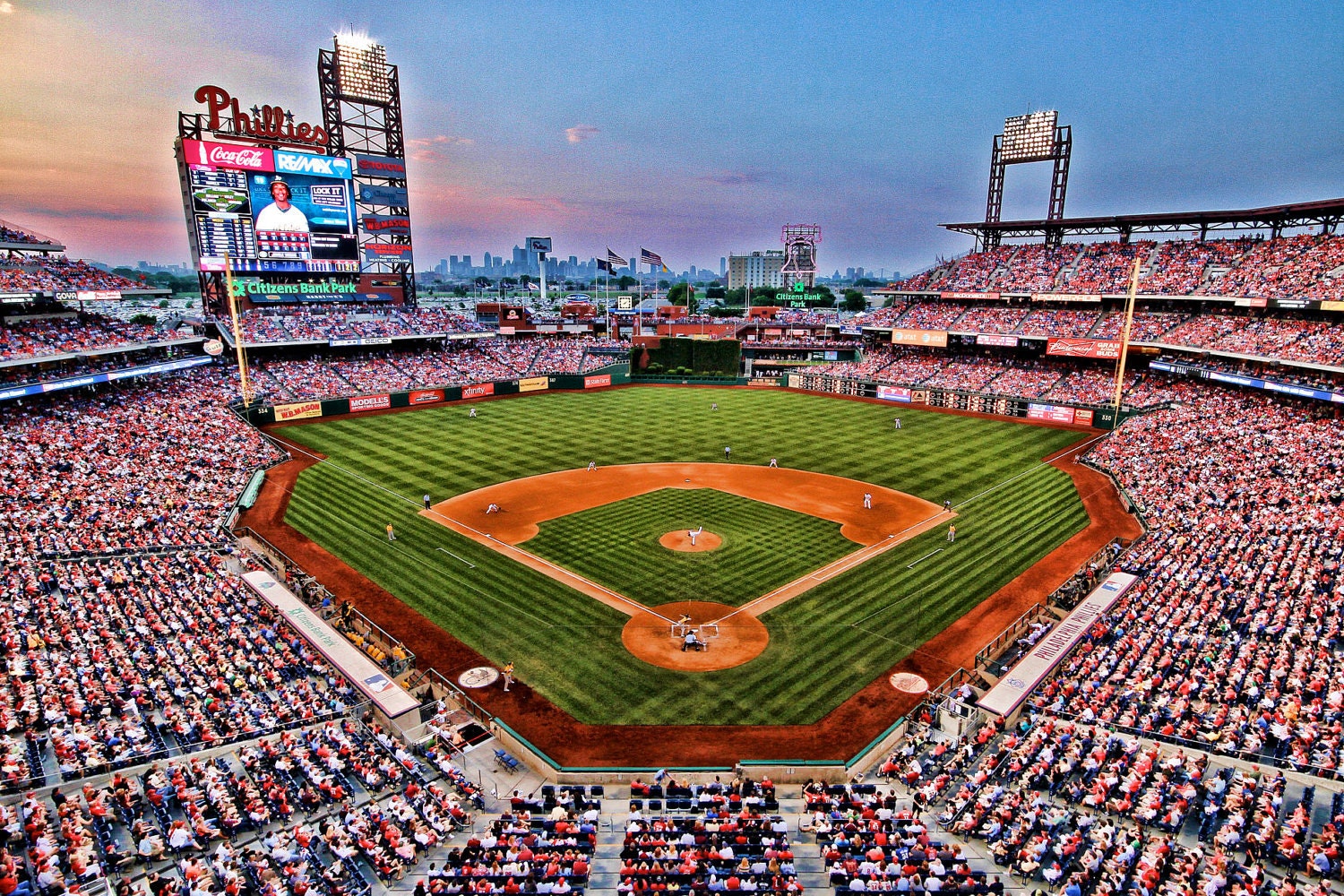 Twitter: @TheRAWLibrarian
Check out the rest of the MAMBINO 2013 MLB Previews!
NL West
NL Central
NL East
AL West
AL Central
AL East

Select Team Previews:
Philadelphia Phillies
New York Mets
Los Angeles Dodgers