MAMBINO Fantasy Monday: The Panic-Meter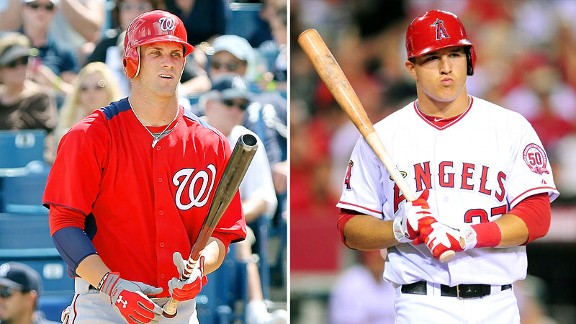 On Friday, the Anaheim Angels and the Washington Nationals called up the consensus #1 and #2 prospects in the game, Bryce Harper and Mike Trout respectively. At ages 19 and 20, Harper and Trout are the two current youngest players in the major leagues. "Wayne's World" has more experience existing than these two. Writing that bringing these two up from the minors is a "panic move" is hardly an overstatement; it might just be accurate.


It's early in the season, but what I know is that it's never too early for a team to freak out from underperformance. Let's take a quick look at some early season moves made by teams across the MLB landscape, grade them 1 to 10 on the "Panic-Meter" and see what type of fantasy implications are there.
The Anaheim Angels call up OF Mike Trout
MAMBINO Panic-Meter: 7 out of 10
However, it's not like this is just a move to just shake up the team. I mean, it's definitely that, but this is also a really simple numbers issue. Abreu had a putrid spring training, followed by hitting .208 in limited duty this year. Bobby no longer plays the same type of Gold Glove defense that he was known for and was the biggest weakness of an Angeles log-jam in the outfield with Peter Bourjos, Vernon Wells, Torii Hunter, Mark Trumbo and of course, Trout.
More importantly, Trout was laying waste to the Pacific Coast League, hitting .403 with literally a billion extra base hits (I exaggerate; it's 10 in 20 games, with 6 stolen bases, to boot).
Yes, this is a panic move for the Angels because of how quickly their season was slipping away from them, even in March, but this was also just a simple numbers move for the Halos. Abreu was bad, and Trout is good. Any team, regardless of expectations, would have made this move.


Fantasy spin:Pick up Mike Trout, right now, if he hasn't already been snatched up.  But perhaps more realistically, this is going to change the look for the other Angels in the line-up. Unless he really stinks, Trout is staying up for good, and probably hitting in the lead-off spot for the duration. I'd buy low into Peter Bourjos, who's hitting in the 9 spot, seeing as Trout, who has some pretty impressive power, will  be hitting directly behind him.

The Washington Nationals call up OF Bryce Harper
MAMBINO Panic-Meter: 9 out of 10
For the Nationals, the reasons are a little less clear. Harper was only hitting .250 in the minors, with just 6 extra base hits in 82 plate appearances; hardly tearing it up. The logic is that the Nats probably wanted to bring up their young phenom immediately following spring training, but didn't want to start his "arbitration clock" (which means, quite plainly, that Washington would have to pay him more money sooner if they brought him to the majors right away rather than waiting 3 weeks). At 14-7 and leading the NL East, Washington didn't necessarily need him anyway. Right?
Wrong.  With 1B/OF Michael Morse and 3B Ryan Zimmerman on the DL, and Roger Bernadina, Xavier Nady and Rick Ankiel being the only other OF other than Jayson Werth, bringing up Harper to potentially keep up the momentum from their early season success was almost a must. After all, all but 2 of their 14 wins are against teams with .500 or better records. And those 2 wins? Against the New York Metropolitans. Draw your own conclusions on how good those wins will look in July (I'll do it for you; they'll look uglier than Tom Gorzellany).
Bryce Harper is 19 years old, and even if all the hype in the world is behind him is substantial, realistically the Nationals aren't competing this year. There's no reason to potentially disrupt his development and bring him up when he wasn't even playing well to begin with. This is a total panic move from a banged-up Nationals squad whose schedule is only getting tougher in the toughest division in the NL.
Fantasy Spin: I don't care how hard the Nats are crushing that panic button, I'm buying stock in Harper faster than the Facebook IPO. His performance against the Dodgers last night was enough to convince me of that. I suspect that he'll be hitting higher than 7th before long, which will only serve to benefit Jayson Werth, Adam LaRoche and Danny Espinosa, who will be hitting around him in the line-up. I'd suggest that most immediately, Werth will see the biggest boost in production, with LaRoche (who's already hitting hot), being second.


The New York Yankees demote SP Freddy Garcia to the bullpen; rookie SP David Phelps will replace him
MAMBINO Panic-Meter: 5 out of 10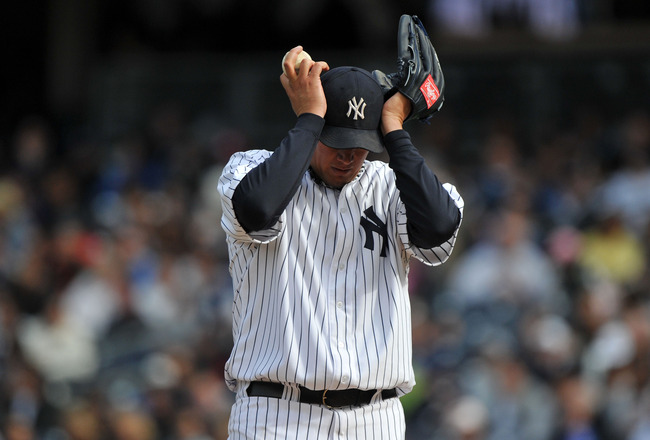 First of all the Yankees don't panic. Yankees FANS panic. Much like Stephen Jackson, the Yanks make love to pressure.
At 12-9, the seemingly consensus pre-season pick to win the whole damn thing is already in a pretty tough spot. Starters seem to be going down by the bucket load, whether it be to injury (Michael Pineda, Joba Chamberlain, Manny Banuelos) or performance (Garcia, Phil Hughes). However, they've had a meat grinder of a schedule so far, playing Detroit, Texas, Boston, Anaheim, Tampa Bay and YOUR AL EAST LEADING Baltimore Orioles. If this were their record after their immediate future schedule (KC, Seattle, Oakland and Cincinnati), I would be more worried.
Phelps has been decently sharp this year as a long reliever out of the pen, striking out 14 in 17 innings and showing some poise out on the mound for the most famous franchise in America. He has been partial to giving up the long ball and needs to work on his control (7 walks in 14 innings), but at this point if I were the Yanks, I'd be pretty willing to try anyone else besides the Freddy Garcia car crash.


I don't see this as a panic move. The Yankees need a fifth starter, and Phelps, while untested and potentially calamitous, is a better solution than anything else the Yankees have right now. Andy Pettitte has looked pretty good down in the minors and should be called up in about 2 weeks. Phelps just needs to be good enough until then, or better than Phil Hughes. I'm better than Phil Hughes. No problem, David.
Fantasy Spin: Well, unless you LOVE walks, I wouldn't be in a rush to pick up Phelps. However, I'd definitely look towards Andy Pettitte, sit him in his first start, but definitely look at him as an option for deeper mixed-leagues and of course, AL-only leagues.


The Atlanta Braves option SP Jair Jurrjens to Triple-A


MAMBINO Panic-Meter: 6 out of 10
After last year's collapse, this year's edition of the Braves was supposed to come back leaner, meaner and more focused than ever. Their rotation seemed pretty indomitable, with the addition by subtraction of Derek Lowe, and young arms like co-ace Tommy Hanson, Randall Delgado, strike-out factory Brandon Beachy and of course, staff co-ace Jair Jurrjens. Well, 4 weeks into the season, there goes that plan.
Last Monday, the Dodgers battered around Jurrjens so badly that the Braves sent him back down to Triple-A Gwinnet. What's left is a rotation with 3 1st and 2nd year guys, including Jair-replacement Mike Minor,  Hanson and a returning from injury Tim Hudson. Minor has pitched well in his 4 starts with the team, Beachy has been dominant, and Hanson has looked good at times. However, Delgado has shown he's not ready and you don't know what you're going to get from a 37 year-old Tim Hudson.
This is a big concern for the Braves, who many picked to not only get to the playoffs, but the World Series. If I'm a fan in Atlanta, I'm lightly pressing that panic button, but I'm not on a full-fledged freak out. It's early, but a really, really slow start from Jurrjens and Delgado is not what the Braves needed.
Fantasy Spin: Jurrjens pitched pretty well in his first Triple-A assignment on Sunday, giving up just one run in 7 innings, 4 hits, 3 walks and 4 k's. It looks like he may get his act together, so I'd buy low right now. I think he'll be up sooner than later seeing Delgado's struggles.

______________________
Digging MAMBINO's MLB coverage? Check out some of our other sweet action:


Burning Questions for the 2012 MLB Season (Part 1)


Burning Questions for the 2012 MLB Season (Part 2)


State of Chavez Ravine: Los Angeles Dodgers Season Preview


What We Deserved, and More: Magic Johnson Owns the LA Dodgers


Arte Moreno's Game Changer: Albert Pujols and CJ Wilson to the Angels