Instant Trade Analysis: Bucks trade Bogut for Ellis
It's amazing to think that tonight's deal was the first actual trade since January 4th, when bench contributing forward Mareese Speights was dealt from Philadelphia, in a three way deal in which guard Xavier Henry ended up with the Hornets and Philly netted a couple 2nd round draft choices. With a furiously moving schedule, Linsanity, daily Dwight Howard trade demands and a trio of ex-Nuggets arriving from China, it's hard to say that we noticed.  So thank you Milwaukee and Golden State for bringing back the true original Instant Trade Analysis.
The Good Land gets: G Monta Ellis, F Ekpe Udoh and C Kwame Brown
Golden State gets:  C Andrew Bogut and F Stephen Jackson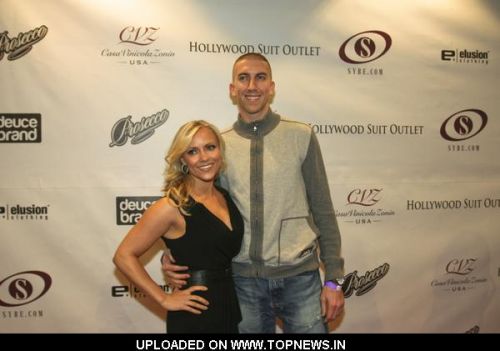 Every once in a while, something will come along that surprises you, like a 72 degree New York March day, or that fact that Steve Blake's wife is really hot. No, this trade didn't necessarily surprise me, as Bogut, Monta and S-Jax had asked out of their current situations in one way or another for a few weeks now. What was surprising is that deal seems to work for both teams.
For the Warriors, the goal was simple: give new coach Mark Jackson a defense-oriented center that the Warriors could build around. Bogut, who's gigantic Aussie frame resembles something closer to a WWE powerhouse than a NBA player, has been essentially a walking MASH unit the past couple seasons, with a dislocated shoulder, broken hand, fractured ankle, sprained wrist and injured back. However, when healthy, he's arguably the 3rd best center in the game, behind Dwight and Andrew Bynum.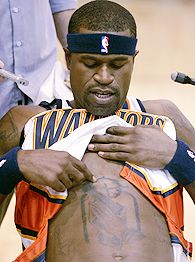 On the other side of the deal, Stephen Jackson is registering near career-low numbers in every category after philosophical differences (which is sports code for "Jax doesn't like that bald bastard who coaches him" and "Coach Skiles thinks Jackson is a lazy gunner who only cares depending on the situation") have made him ride the pine for the Bucks. Jackson remains a very talented player, but at over $9.2 million this year and over $10 million the next, the small-market Bucks can't afford to pay an unproductive whiner. Jackson might end up being a steal for the Warriors, because, as he's shown in the past when he was unhappy in Indiana and, ironically, Golden State, his numbers take a distinct bump when he's dealt to a different team. Perhaps a move back to the bay and out of Skiles' system will reinvigorate the still-talented Captain Jack.
The Bucks are taking a bit more of a gamble here, but still get what they've been seeking to acquire for the past two years in Monta Ellis: points. Scoring production, pure and simple. Perimeter swingmen, including Jackson, have all failed to a certain degree in The Good Land, and GM John Hammond needed to do something drastic to get the scorer who can elevate one of the league's worst offenses. The loss of Bogut was somewhat diminished when taking into account how snake-bitten the former first-overall pick's been, but giving away the player that they selected over Chris Paul and Deron Williams still represents a loss in investment. Though Kwame was inserted into the deal for pure salary cap reasons, Ekpe Udoh is just 24, in his second season (after a broken hand affected his play his entire rookie year) and is a defense-first player. Of course he won't replicate Bogut's production, but he is a young project that could turn into a Tyson Chandler-like defensive difference-maker. Another plus to this trade is that the Bucks will now be around $14 million under the salary cap this summer. Chris Broussard won't be reporting from Milwaukee regarding Deron or Dwight, but they'll have the space to re-sign Ersan Ilyasova, as well as a true center and some more shot-making swing men to compliment Monta.
More than anything, this locks in two rather rudderless teams into a direction for the future. The Bucks are committing, for at least the next two seasons, to the core of Ellis, Ilyasova, Drew Gooden, Brandon Jennings (when the team offers him a 8-figure deal, his whining will stop) and whoever they acquire in free agency. Though they'll lose some on defense, the Bucks are in a playoff race with the Knicks right now, and needed a jolt in order to pass the far-more talented Bockers. Seeing as Bogut was more than likely out for this season, and Jackson was getting no court time, all the Bucks did was add talent for this stretch run. This remains a great trade for Mily-walk-kay if they can make some solid free agent additions this summer.
The Warriors, for better or worse, are locking themselves into a future with Stephen Curry and Andrew Bogut. The team is betting on two players that have extremely high upside, but whose careers have been beset with injuries (no word on whether the Golden State training staff knows how to turn both guys' balsa wood bones back into actual human body parts, however). Seeing as both players are currently inactive, the Warriors might have waved the white flag on the season. However, they'll be returning next year with a presumably healthy starting five of Curry, Klay Thompson (who has been phenomenal in his rookie year), Stephen Jackson, David Lee and Andrew Bogut, with Dorrell Wright, Brandon Rush and a high draft pick on the bench. Sounds like a playoff team to me.
The upside for Golden State is much higher, but the future for the Bucks seems a little more certain and probably, injury free. All in all, an even, solid trade for both sides.