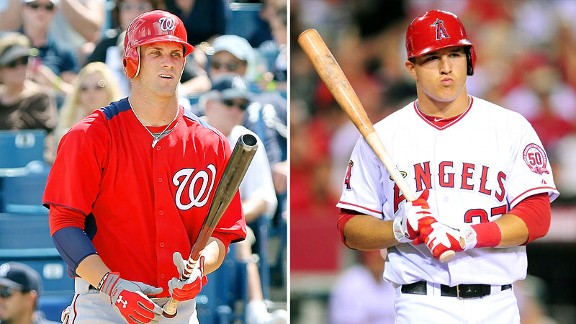 On Friday, the Anaheim Angels and the Washington Nationals called up the consensus #1 and #2 prospects in the game, Bryce Harper and Mike Trout respectively. At ages 19 and 20, Harper and Trout are the two current youngest players in the major leagues. "Wayne's World" has more experience existing than these two. Writing that bringing these two up from the minors is a "panic move" is hardly an overstatement; it might just be accurate.


It's early in the season, but what I know is that it's never too early for a team to freak out from underperformance. Let's take a quick look at some early season moves made by teams across the MLB landscape, grade them 1 to 10 on the "Panic-Meter" and see what type of fantasy implications are there.
The Anaheim Angels call up OF Mike Trout
MAMBINO Panic-Meter: 7 out of 10
However, it's not like this is just a move to just shake up the team. I mean, it's definitely that, but this is also a really simple numbers issue. Abreu had a putrid spring training, followed by hitting .208 in limited duty this year. Bobby no longer plays the same type of Gold Glove defense that he was known for and was the biggest weakness of an Angeles log-jam in the outfield with Peter Bourjos, Vernon Wells, Torii Hunter, Mark Trumbo and of course, Trout.
More importantly, Trout was laying waste to the Pacific Coast League, hitting .403 with literally a billion extra base hits (I exaggerate; it's 10 in 20 games, with 6 stolen bases, to boot).
Yes, this is a panic move for the Angels because of how quickly their season was slipping away from them, even in March, but this was also just a simple numbers move for the Halos. Abreu was bad, and Trout is good. Any team, regardless of expectations, would have made this move.


Fantasy spin:Pick up Mike Trout, right now, if he hasn't already been snatched up.  But perhaps more realistically, this is going to change the look for the other Angels in the line-up. Unless he really stinks, Trout is staying up for good, and probably hitting in the lead-off spot for the duration. I'd buy low into Peter Bourjos, who's hitting in the 9 spot, seeing as Trout, who has some pretty impressive power, will  be hitting directly behind him.

The Washington Nationals call up OF Bryce Harper
MAMBINO Panic-Meter: 9 out of 10
For the Nationals, the reasons are a little less clear. Harper was only hitting .250 in the minors, with just 6 extra base hits in 82 plate appearances; hardly tearing it up. The logic is that the Nats probably wanted to bring up their young phenom immediately following spring training, but didn't want to start his "arbitration clock" (which means, quite plainly, that Washington would have to pay him more money sooner if they brought him to the majors right away rather than waiting 3 weeks). At 14-7 and leading the NL East, Washington didn't necessarily need him anyway. Right?
Wrong.  With 1B/OF Michael Morse and 3B Ryan Zimmerman on the DL, and Roger Bernadina, Xavier Nady and Rick Ankiel
…
Read more...